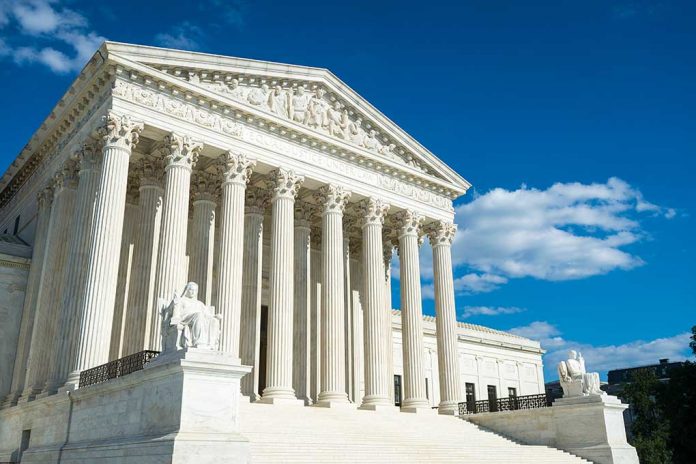 (UnitedHeadlines.com) Our country's teens have little voice in important matters affecting their lives. As children, it's nearly impossible for them to change policy impacting them. Still, as long as they aren't hurting anyone, they should be free to express their feelings. One high school student recently celebrated a monumental victory when the Supreme Court of the United States (SCOTUS) sided with her and the First Amendment.
Mahanoy Area School District v. Brandi Levy
The case began in 2017 after 14-year-old Brandi Levy failed to make her high school's varsity cheerleading team. Upset, the young teen took to the social media platform Snapchat to express her anger. In one of the photos she posted to her story, Levy had raised her middle finger and captioned the photo with profanities toward the school, softball, and cheerleading.
Her photo, which was only viewable to her friends for 24 hours, was screenshotted and turned in to school officials. After viewing the images, her coaches decided to suspend her from the junior varsity team for one year, stating her actions violated team rules and those of the school. As a result, levy filed a lawsuit that claimed the school violated her First Amendment right to free speech.
Decision by SCOTUS
Levy won her case in the lower court, and the school district appealed to the Supreme Court. SCOTUS ruled in her favor eight-to-one, and Justice Stephen Breyer wrote the court's majority opinion. The opinion stated that while the school had the right to regulate students' off-campus speech, it could only be enforced for exceptional circumstances impacting schools.
Continuing, Breyer wrote that the responsibility for monitoring students' speech off-campus fell primarily on parents and not school officials. Ultimately, a student's off-campus speech was the responsibility of their parents.
Breyer also wrote that had Levy been an adult, her speech would have been protected under the First Amendment. The opinion concluded that Levy's snap was created off-campus on a weekend and didn't cause any substantial disruption warranting her suspension.
The Lone Dissenter
Justice Clarence Thomas cast the lone vote against Levy. Thomas' dissenting opinion stated that 150 years of history supported the school's decision to take disciplinary action. "Historically [schools] could discipline students in circumstances like those presented here," he wrote.
Situations like Levy's were tailor-made for review by the Supreme Court. Increasingly, the nation is seeing cases like hers where school officials are stomping on students' free speech rights, frequently in an inconsistent manner.
Levy's case may appear small initially, but it is a massive victory for the First Amendment and protected speech.
Copyright 2021, UnitedHeadlines.com