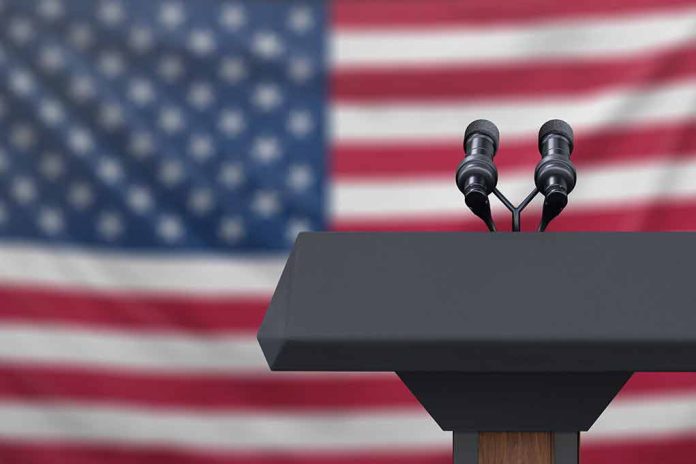 (UnitedHeadlines.com) – On Oct. 12, an audit of Arkansas Gov. Sarah Huckabee Sanders purchases was approved by Republicans after controversy arose over a $19,000 lectern.
The issue came to light after an open records request from blogger and attorney Matthew Campbell that led to claims of public documents being altered by the state. In June, Campbell made a request for public records related to the governor's security expenses as well as travel expenses. While he received some records, some were denied because they contained information that could potentially jeopardize Sanders's security. On Sept. 6, Campbell filed a lawsuit alleging the denials violated the Freedom of Information Act (FOIA).
A legislative session was called for Sept. 8 to update the state's FOIA laws, with the governor arguing the changes were needed for her safety. The changes to the laws led to Campbell reviewing the documents he had received. On Sept. 11, he posted on Twitter about a $19,029.25 payment which records requests showed was for a lectern from Virginia-based Beckett Events.
The purchase then led to questions over whether documents were being altered by the governor's office after Campbell's public records showed a June 8 invoice for $19,029.25 which was then charged to a government credit card on June 12. On Sept. 14, the Republican Party of Arkansas reimbursed the state for the $19,029.25, according to a copy of the check. On Sept. 15, Campbell received a copy of the June invoice, which included a handwritten note that said, "to be reimbursed." According to new public records, the note was added on Sept. 15, after Campbell had requested the documents regarding the payment.
A whistleblower, a former Arkansas state agency employee, then came forward in September, alleging that public records had been altered by the governor's office.
The lectern purchase as well as how open records requests are handled by Sanders' office are being audited by a Republican legislative panel beginning Oct. 20. The audit is set to be completed before the end of the year.
Copyright 2023, UnitedHeadlines.com