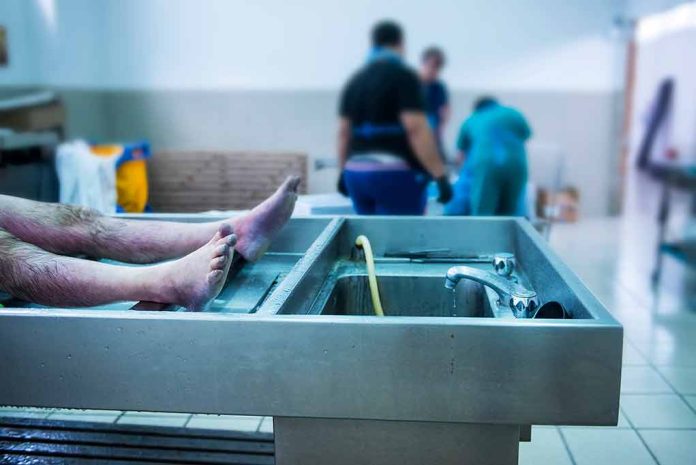 (UnitedHeadlines.com) – Connor Bowman, 30, a poison specialist, has been charged with second-degree murder for allegedly poisoning his wife, Betty Bowman, 32, who died in August after being admitted into the hospital with severe stomach distress.
Connor Bowman was charged Oct. 23 after being arrested on Oct. 20.
According to the criminal complaint, Betty Bowman was admitted to the hospital on Aug. 16 for dehydration and "severe gastrointestinal distress." Her initial symptoms were similar to food poisoning which she was initially treated for. However, "her condition deteriorated rapidly" to include cardiac issues, fluid in her lungs as well as organ failure.
According to authorities Connor Bowman, who was a former Mayo Clinic resident, tried to stop the autopsy on his wife, who had been a Mayo Clinic pharmacist. Connor Bowman argued that she had the rare illness hemophagocytic lymphohistiocytosis and needed to be immediately cremated. However, hospital tests did not confirm a rare illness. The cremation was stopped by the Southeast Minnesota Medical Examiner's Office who cited Betty Bowman's death happened under suspicious circumstances. The autopsy showed that Betty Bowman had died from the toxic effects of a medicine used to treat gout known as colchicine. She was not being treated for gout nor prescribed the medicine according to her medical records.
According to the criminal complaint, prior to his wife's death Connor Bowman had been researching the drug. He had converted his wife's weight to kilograms and multiplied that lethal dosage rate for colchicine six days before she was hospitalized. Five days before she was hospitalized, he searched for information on how to purchase liquid colchicine and visited a website that "helps service online purchases." According to investigators the actions "coincided with the online activity for purchasing colchicine."
A statement from Amanda Dyslin, a Mayo Clinic spokesperson, released Oct. 25, said that they are aware a former Mayo Clinic resident was arrested "on charges unrelated to his Mayo Clinic responsibilities." The statement added that his training had "ended earlier this month."
Connor Bowman is scheduled to appear Nov. 1 in court.
Copyright 2023, UnitedHeadlines.com