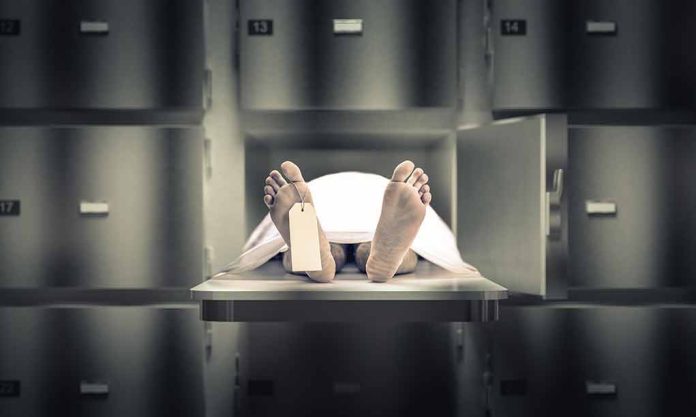 (UnitedHeadlines.com) – Republican North Dakota state Sen. Doug Larsen, along with his wife and two children were killed on Oct. 1 when their plane crashed in Utah shortly after a refueling stop.
According to a post on the Grand County Sheriff's Department Facebook page, the crash occurred about 15 miles north of the town of Moab not long after the plane took off from the Canyonlands Airfield. All four people on board the single-engine Piper plane were killed according to the sheriff's office.
In an email to his fellow senators, Senate Majority Leader David Hogue stated the family had been returning home after visiting family in Scottsdale. In the email Hogue wrote to "Hold your family close today" adding to pray for the family of Doug and his wife, Amy.
In the Senate chamber, just over his name plate on Larsen's desk readings "D. Larsen – District 34," a bouquet of roses had been draped.
First elected to the North Dakota Senate in 2020, Larsen was chairman of a Senate panel that handled industry as well as business legislation. Larsen and his wife were also business owners. He served in the North Dakota Army National Guard for 29 years. He was mobilized in 2009-2010 to Iraq and from 2013-2014 to Washington, D.C. Among other honors, he was awarded the Bronze Service Star, Meritorious Service Medal as well as the Army Aviator Badge.
The crash is being investigated by the National Transportation Safety Board. A board investigator arrived at the scene Oct. 2 to begin the task. In a couple of weeks, the preliminary report will be available with a final report being available in a year or up to a year and half.
According to Fabian Salazar, the NTSB spokesman, the family took a car into Moab after the plane landed at the airport for refueling. The plane's origin and final destination were not released by officials.
A successor to fill out the remainder of Larsen's term, which runs through November 2024, will be appointed by District Republicans.
Copyright 2023, UnitedHeadlines.com