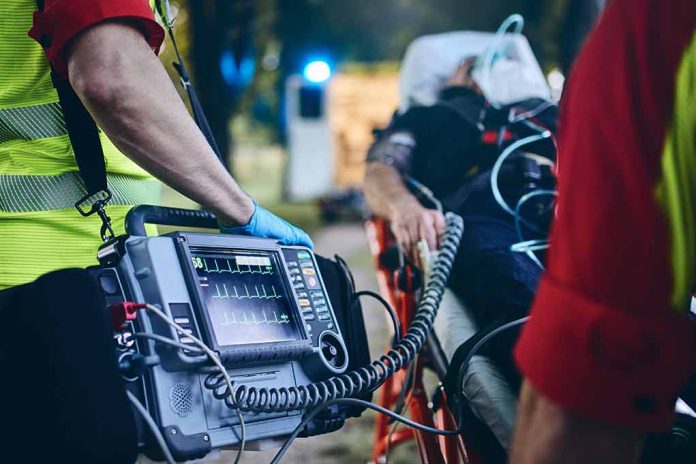 (UnitedHeadlines.com) – Jonathan Lewis Jr., 17, died on Nov. 7, a week after he was beaten by a group of 15 teenaged attackers after Lewis tried to defend his younger friend from a group of bullies.
On November 1, a group of around 15 teens stole an item from Lewis' physically smaller friend, and threw the boy into a trash can. Lewis Jr. confronted the group, who then attacked him. According to his father, "they all attacked him at once" after a smaller group initially attacked his son but "weren't able to hurt him enough."
At the time of his death, the Rancho High School student was being treated at University Medical Center for injuries sustained during the Nov. 1 attack. He had been transported to the hospital after Las Vegas Metropolitan Police officers found Lewis Jr. bleeding from the head. Following the attack, he was put on life support, according to his father, Jonathan Lewis Sr.
His father stated that "The whole family is in shock."
Video of the attack was posted on social media. The video appears to show a young man who is pushed into a fence by a large group who then beat the victim while he was on the ground. Lewis Sr. expressed grief and sorrow that his son was killed by the attackers, adding that "children don't even know what they're doing half the time."
On a memorial website for Lewis Jr., his father called his son a hero for defending his friend.
He stated that Lewis Jr. was "a loving, giving, kind, fierce young man" who aspired to be an artist. He was interested in photography, drawing, and painting. He was considering following in his grandfather's footsteps, who served in the U.S. Navy.
No arrests have been made in the case, which is being investigated by the Las Vegas Metro Police Department's homicide unit. However, according to the family, investigators have stated that several students involved in the fight would be charged with murder.
Copyright 2023, UnitedHeadlines.com