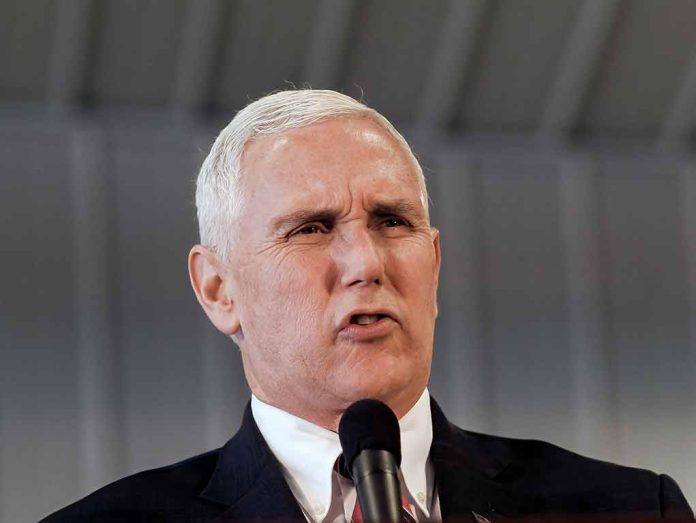 (UnitedHeadlines.com) – When former Vice President Mike Pence attempted to deliver one-liners during the Sept. 27 Republican presidential primary debate his remarks fell flat with the audience.
His two attempts to deliver one-liners brought either silence or very little applause.
When asked about the auto worker strike currently ongoing in Michigan, Pence stated that President Joe Biden "belongs on the unemployment line" and not the picket line. Pence went on to say that the Biden administration's push for electric vehicles as part of its green energy agenda is to blame for the unrest in the auto industry. His remarks were met by silence from the audience.
Pence tried again to get a reaction from the audience later in the debate. While discussing education policies with the former governor of New Jersey Chris Christie, Pence attempted a second joke. Christie made a remark about Biden sleeping with a teacher. Christie said that makes it hard to "take the stranglehold away from the teachers union." In response, Pence stated that for almost 40 years he's also slept with a teacher. Pence added that "education is a state and local function." The remarks were once again met with silence.
Seven 2024 Republican presidential candidates were able to attend the Sept. 27 Republican primary debate which was held in Simi Valley, California, at the Ronald Reagan Presidential Library. Pence, Christie, Florida Gov. Ron DeSantis, North Dakota Gov. Doug Burgum, South Carolina Sen. Tim Scott, Vivek Ramaswamy as well as former UN ambassador and former governor of South Gov. Nikki Haley took part in the debate.
Candidates needed to have more than three percent support in two national polls or three percent in one national poll along with two polls from the early voting states of New Hampshire, Iowa, South Carolina, and Nevada. Candidates had to have more than 50,000 individual donors. Due to his poll numbers, Pence stood on the far right of the stage.
Copyright 2023, UnitedHeadlines.com