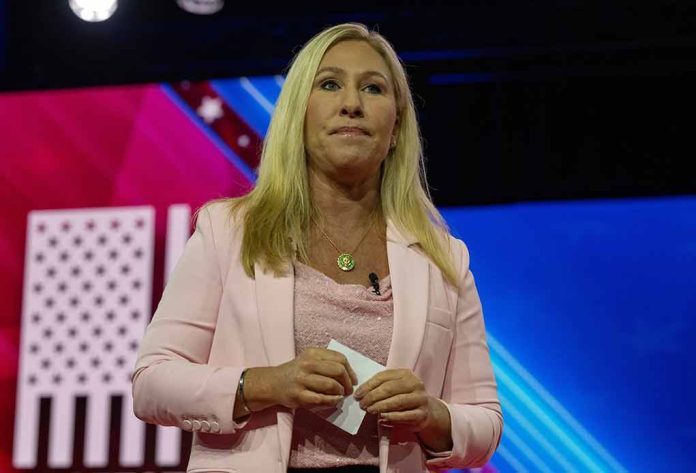 (UnitedHeadlines.com) – Marjorie Taylor Greene faced a bit of heat during a committee meeting when she mixed up FBI Director Christopher Wray's position, suggesting he was involved with Homeland Security, a blunder that drew chuckles across social media.
Wray was briefing the House Homeland Security Committee on the current tension between Israel and Hamas when Greene, Georgia's representative, pulled out a poster that she claimed was an internal chat about a "global intifada."
She asked Wray if he knew about it, and he replied, "I haven't seen those photos before, Congresswoman." Greene then mentioned she posted it on X, which Wray brushed off, saying, "I don't spend a lot of time on Twitter."
Thinking Wray was part of Homeland Security, Greene went on about how DHS had censured her and others. But Wray made it clear, "I'm not part of the Department of Homeland Security."
Their chat went viral, getting millions of views. Mary Trump chimed in, calling Greene's mix-up a "major blunder," while a group opposing Trump added, "We're electing idiots, episode #8677."
The online jabs kept rolling in. People poked fun, saying Greene just doesn't understand how the government works. Meanwhile, Wray highlighted concerns, noting that groups like Hamas might exploit the ongoing Israel-Hamas strife by attempting attacks in the US.
This isn't Greene's first headline-grabbing exchange this week. She tangled with House Democrat Rosa DeLauro, implying the 80-year-old forgot a funding bill vote due to her age. DeLauro schooled Greene, emphasizing the bill's route through the Senate and President Biden's signature for it to take effect, proving age had nothing to do with it.
Marjorie Taylor Greene's mix-up during a House Homeland Security Committee meeting, misidentifying FBI Director Wray's position, caused quite a stir online. The exchange, where Greene mistakenly associated Wray with Homeland Security, went viral, inviting ridicule. This blunder was just one of Greene's recent high-profile spats, highlighting her ongoing controversies within the political arena.
Copyright 2023, UnitedHeadlines.com