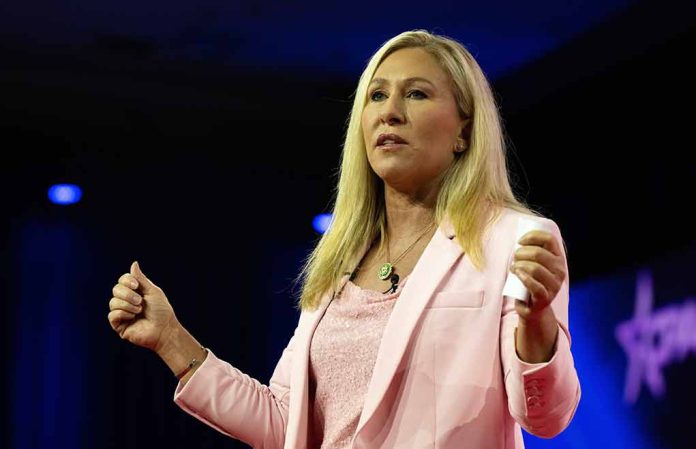 (UnitedHeadlines.com) – Georgia Rep. Marjorie Taylor Greene's request to have a New York man convicted of threatening her reimburse her for funds used for security upgrades at her home has been denied by a federal judge.
In August, Joseph Morelli pleaded guilty to three counts of transmitting interstate threats over voicemail messages for March 2022 messages he left at Greene's Washington, D.C., office. In the messages, Morelli threatened to harm Greene. Prosecutors state that in one voicemail, he said he would pay someone to use a "baseball bat and crack your skull." Morelli received a three-month prison sentence.
In a move backed by the Department of Justice, Greene requested that Morelli reimburse her for the $66,632 in campaign funds she spent to reconfigure the closed-circuit television system and construct a security fence.
Greene's request was denied Nov. 14 by the U.S. District Judge Brenda Sannes, who wrote in a 14-page ruling that the restitution was only authorized by federal law if Greene had suffered a "loss of property." Sannes wrote that instead, the money was used for "personal security enhancements." Judge Sannes denied the Department of Justice's argument that the threats from Morelli "directly and proximately" caused the harm that led to the need for security upgrades.
In rejecting the arguments, Sannes noted that Greene did not make the security upgrades until after Morelli's March 2022 threats, despite receiving threats from other individuals. Two of the individuals who made threats were also criminally charged. The Department of Justice argued Morelli's threats were "the straw that broke the camel's back."
However, Sannas ruled there was a delay between Morelli's release on pretrial conditions and when Greene began the security upgrades. At Morelli's restitution hearing, his lawyer Gabriella DiBella, cited the delay in security upgrades, noting that work did not begin until December 2022.
On Nov. 14, DiBella commented on Greene's restitution request stating that "at its best, baseless and at its worst, fraudulent."
Copyright 2023, UnitedHeadlines.com