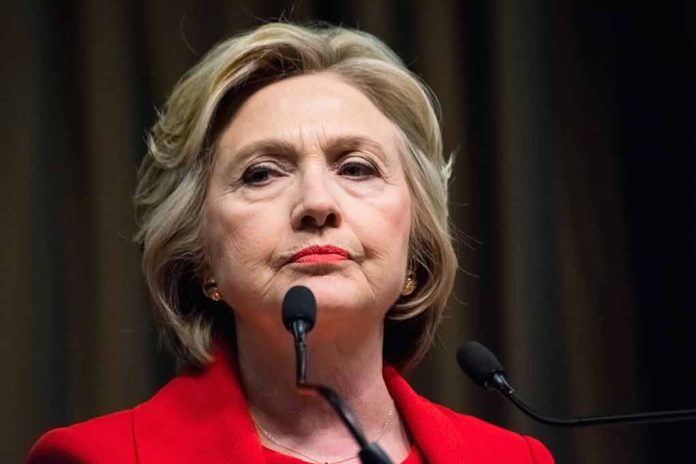 (UnitedHeadlines.com) – During a panel discussion on Oct. 23 at Columbia University, a heckler demanded former Democratic presidential candidate Hillary Clinton discuss President Joe Biden's "warmongering" policies.
Clinton had been taking part in the "Making Human Rights Come Alive: The UDHR at 75" event which discussed the Universal Declaration of Human Rights 75th anniversary. In 1948, the UDHR was adopted by the United Nations after being drafted by a committee that had been chaired by the former First Lady Eleanor Roosevelt.
During a three-minute exchange, a heckler attending the discussion demanded Clinton make a statement about Biden's Oct. 19 speech from the Oval Office. The heckler mentioned how the speech called for $100 billion in funding for not only Israel but also for Taiwan as well as Ukraine bundled together while rushing "to World War III."
Clinton then interrupted the heckler, saying "This is not a way to have a conversation," adding that the heckler could talk to her afterward.
The heckler then continued that he did not believe Clinton would wait to talk to him. Clinton responded that she would wait for the heckler as well as listen and respond.
"Respectfully, I do not believe you," the heckler said. The heckler then continued that the voice of the American people "needs to be heard" and that neither the president nor Clinton were "speaking for the American people."
Clinton then said "Then sit down!" adding that the heckler's opinion had been heard. However, the man continued that he would continue to exercise his right to free speech. Clinton responded that disrupting others' "opportunity to speech" was not free speech.
An official then stepped in and tried to stop the man who shouted, "This is free speech!" while he continued to demand Clinton comment on what he called Biden's "openly warmongering, suicidal and idiotic" speech.
Copyright 2023, UnitedHeadlines.com