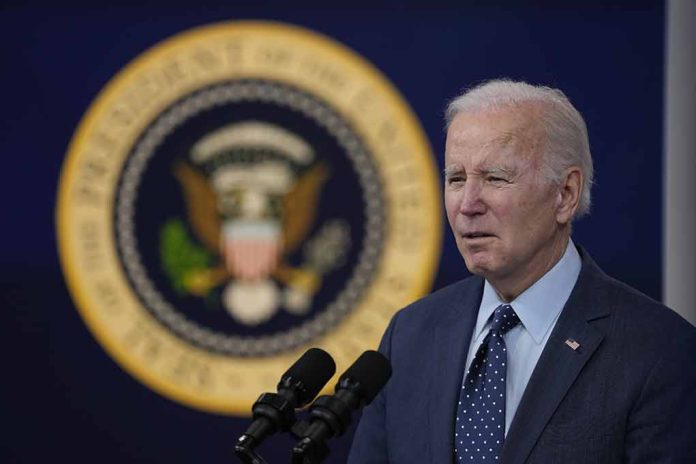 (UnitedHeadlines.com) – On Nov. 3, Virginia Rep. Bob Good introduced the No American Climate Corps Act which is aimed at preventing federal funds from being used to create the Biden administration's proposed Climate Corps as well as the Justice40 Initiative.
The bill "will fight Biden's climate extremism" and continue working toward energy independence in America, according to Good.
Good stated that the Biden administration continues to focus on its "economy crippling climate agenda" while Americans are struggling due to inflation. He stated that his proposed bill would help stop Biden from releasing a "climate army" on Americans.
In late September, President Joe Biden launched the American Climate Corps program through an executive order. Biden announced the creation of the program after being urged by New York Rep. Alexandria Ocasio-Cortez, Michigan Rep. Rashida Tlaib, Senate Majority Leader and New York Sen. Chuck Schumer, and other progressive lawmakers to use his executive powers in order to establish the program. Since Biden was elected in 2020, progressives had pushed for the creation of a civilian climate corps. It was originally included in the Inflation Reduction Act legislation. However, it was removed from the final bill due to the objections of the cost, which was estimated to be $30 billion.
The American Climate Corps is a green-jobs training program that aims to recruit more than 20,000 people into the program and train them for jobs in climate-related fields. An administration-wide goal of 40 percent of the overall benefits of climate spending going toward communities that are "disadvantaged" was established by the Justice40 Initiative. Over 200 Environmental Protection Agency and Department of Energy funding programs are aligned with the Justice40 Initiative.
Good's bill said that "$30 billion of taxpayer money" will be used to fund the new program. Though that was the price in the Inflation Reduction Act, a final price tag for the plan has not been revealed by the Biden administration.
Copyright 2023, UnitedHeadlines.com