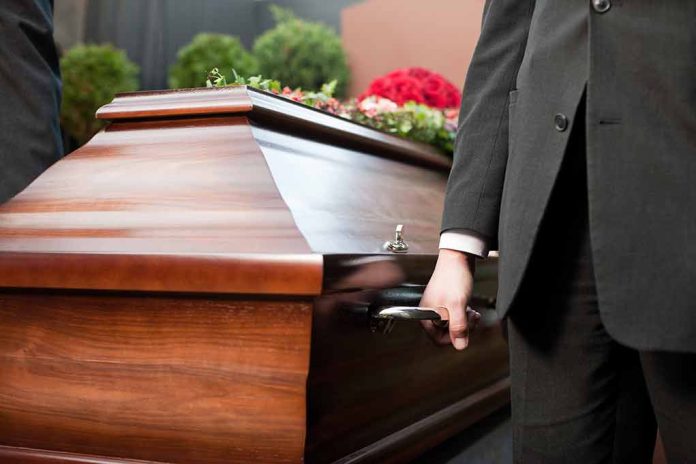 (UnitedHeadlines.com) – On Oct. 28, former NHL player Adam Johnson, 29, died after being slashed in the neck by the skate of Matt Petgrave while playing in a game for the Nottingham Panthers in England.
The incident occurred at Sheffield's Utilita Arena during the second period of the Panthers and the Sheffield Steelers Challenge Cup match.
After being hit by the blade of Petgrave's skate, Johnson was attempting to skate back to the bench when officials stopped him. The players formed a ring around Johnson to shield him from the fans who were still in attendance at the time. Johnson was treated immediately on the ice and then transported to Northern General Hospital in Sheffield. "Due to a major medical emergency," the more than 8,000 fans at the arena were asked to leave and the players were sent back to the locker rooms.
Johnson was born in Hibbing, Minnesota. He played hockey in college for the University of Minnesota Duluth. A forward, he began playing in the American Hockey League before playing in the NHL for the Pittsburgh Penguins from 2018-2020. During his two years with the Penguins, he played in 13 games and scored one goal and three assists. He went on to play for the minor league affiliates of the Los Angeles Kings as well as Philadelphia Flyers. After leaving the NHL, Johnson played in Germany and Sweden. Johnson had joined the Panthers, an Elite Ice Hockey League team, in August.
On Oct. 29, the team released a statement that Johnson had died "following a freak accident" that happened during the game. The Elite Ice Hockey League postponed all games that had been scheduled for Oct. 29.
The Panthers statement called "Adam, our number 47," an incredible person, an outstanding player as well as a great teammate that will never be forgotten.
The Penguins also released a statement offering condolences, stating that "Adam will always be part of the Penguins family."
On Oct. 30, the league announced that starting in 2024 players will be required to wear neck guards and protectors.
Copyright 2023, UnitedHeadlines.com