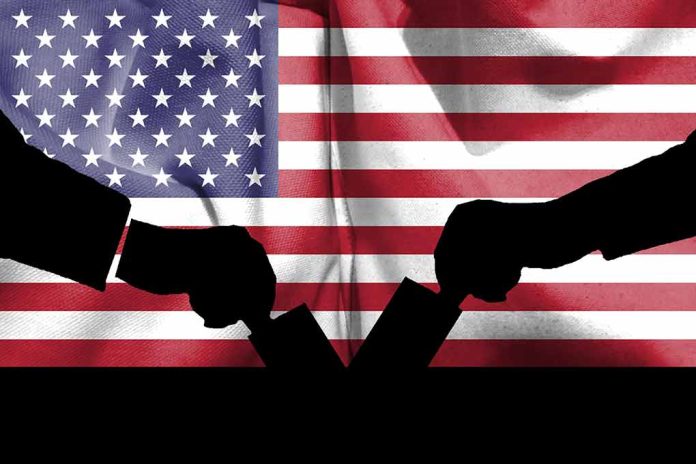 (UnitedHeadlines.com) – Susanna Gibson, a 40-year-old nurse practitioner, has lost the Virginia House of Delegates election to Republican David Owens, a businessman. The loss in the race for the House District 57, an area outside of Richmond, came shortly after Gibson's campaign was rocked by scandal. In September, the Washington Post reported that Gibson and her husband, attorney John David Gibson, had livestreamed themselves performing intimate acts for an online audience, all while asking the audience to pay them tips for their actions.
Clips from the event were circulated more widely in September 2022, and a year later screenshots of these clips were displayed first by the Washington Post, and a month later by Gibson's Republican rivals who mailed them to thousands of potential voters. Despite the lewd film being purposefully shared online by the couple, Gibson has accused the Republican party of committing a criminal act by circulating the material.
The images mailed by the Republican party staffers were accompanied by censored quotes taken from the video clips and were placed in envelopes that displayed a warning of the content's sensitive nature, including the instruction not to open the envelope if under the age of 18 years. Gibson decried the mailshot as "gutter politics" and claimed that it was a distraction from the issues of abortion, gun control, and education.
Despite the scandalous images, Gibson only lost to Owens by fewer than 1,000 votes. Their race was a close one that attracted much attention from the public in an already competitive state. Virginia is currently a Democrat-held state, and during these elections, Republican Governor Glenn Youngkin had hoped to flip the state senate from Democrat to Republican as well as maintain control of the House of Delegates. He did not succeed in either aim and now faces a difficult task for the next two years.
While Gibson vowed to keep "fighting" in future, David Owens took to X, previously Twitter, to share his victory. He described his election as an honor and promised to work towards a more unified community using a common-sense approach to leadership.
Copyright 2023, UnitedHeadlines.com