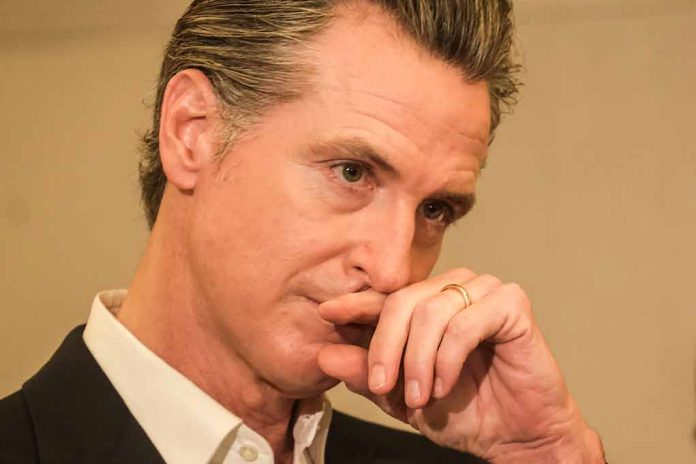 (UnitedHeadlines.com) – During a break from his meetings in China, California Gov. Gavin Newsom joined a pickup game of basketball with students in Beijing which resulted in him running over one of the students.
Video shared on Twitter by RNC Research shows Newsom showing off some of his basketball skills, spinning a basketball on his fingertip. The video then shows Newsom making a move with the ball toward the basketball and then running through one of the children defending him. While the boy in front of Newsom reached for the ball, the governor did not notice a second student to his left. Newsom and the child are seen falling to the ground, with Newsom wrapping the child in a bear hug before he playfully pats the child's back as the two get up off the ground. Newsom is heard telling the child "I got you."
The incident occurred while Newsom was visiting the Yuying School in Beijing, "see farm-to-school and other agricultural science programs" according to a spokesperson from the governor's office.
Newsom, the first American governor to visit China in more than four years, was in China as part of a week-long trip to push for cooperation on tackling climate change.
While in China, Newsom and Chinese leader Xi Jinping met to discuss "meaningful and substantive ways" to "accelerate our progress on climate." Newsom stated the two also discussed the drug fentanyl, which has killed thousands of Americans.
Newsom and Xi discussed human rights violations as well as the case of California pastor David Lin, who has been imprisoned since 2006 in China. The two discussed anti-democratic efforts in Taiwan, Hong Kong, Xinjiang and Tibet. Newsom and Xi also talked about the Middle East and China's role in helping to diffuse tensions in the region.
As part of his trip to China, Newsom also launched a new climate partnership with Shanghai. While in Shanghai, Newsom also visited Tesla's Shanghai factory.
Copyright 2023, UnitedHeadlines.com