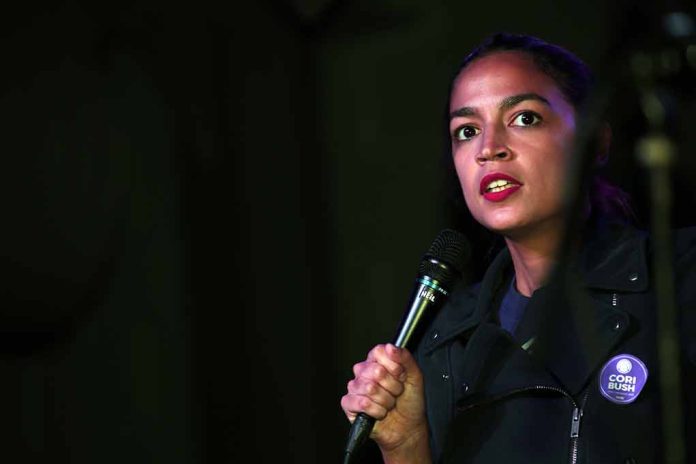 (UnitedHeadlines.com) – "Squad" member and New York Rep. Alexandria Ocasio-Cortez is coming to the defense of fellow New York Democrat, Rep. Jamaal Bowman, after he pulled a fire alarm before a vote that prevented a government shutdown.
In an Oct. 1 interview on CNN, Ocasio Cortez tried to explain Bowman's actions, stating that it was done "in a moment of panic" as the government was going to shut down.
In response to her answer, "State of the Union" host Jake Tapper asked, "So he pulled the fire alarm?"
She explained the incident, which was caught on camera, as "exits that are normally open" being "suddenly closed" in the Cannon House Office Building.
On surveillance video from Sept. 30, Bowman appears to pull the fire alarm in front of two closed doors, the same day as the vote on the stopgap spending bill which averted a government shutdown. The video shows the door marked with the word "FIRE," along with two signs that give details about opening the emergency door.
Ocasio-Cortez called the incident "a misunderstanding."
Ocasio-Cortez went on to say that Bowman is cooperating with officials' investigation and had apologized for the incident.
She then went on to criticize Republicans as being hypocrites for protecting New York Rep. George Santos, who faces a 13-count federal indictment, while potentially seeking to expel Bowman for what she said was a mistake.
She stated that Republicans "should really check their own values."
Bowman issued a statement apologizing for the incident, adding that he thought the alarm would open the door as he was "rushing to make a vote." In his statement, he said that he was not "trying to delay the vote" but rather to urgently "get to a vote."
Bowman's response caused many to take to social media. Former Michigan Rep. Justin Amash posted about the incident saying "This is not confusing at all."
While Santos took to social media to give a lesson about using a fire alarm.
Copyright 2023, UnitedHeadlines.com