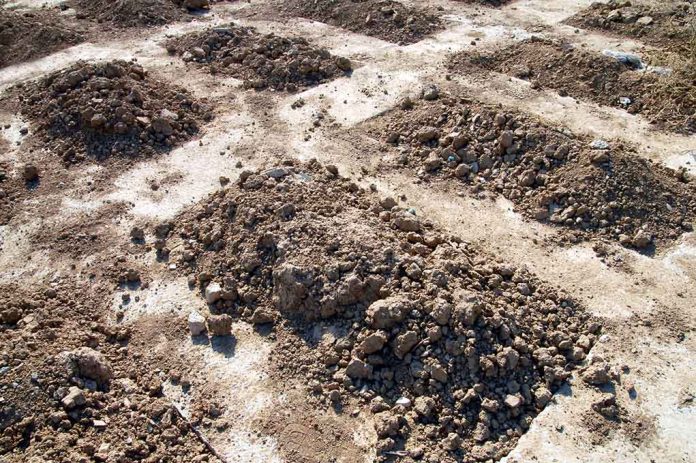 Zelenskyy BOMBSHELL – Stash Of Bodies Uncovered…
(UnitedHeadlines.com) – Ukraine claimed another victory against invading forces on September 10, when Russian troops fled Balakliya and Izyum. Despite the huge win, no one is celebrating quite yet. AP News reported authorities found a massive burial site containing what appeared to be hundreds of graves tucked within the region's forest.
A Forest of Crosses
During his September 15 nightly address, Ukrainian President Volodymyr Zelenskyy said authorities were investigating the site, adding they would have more information soon. During his speech, the European leader stated, "Russia leaves death everywhere. And it must be held accountable for that."
According to Sky News, the official tally in Izyum is 440 bodies. Most graves only have numbers as markers, although one notable site appears to be the resting spot of 17 Ukrainian soldiers. Most bodies remain unidentified, but experts are working hard to piece together as much information as possible. They're hopeful enough evidence remains to charge the individuals responsible for the deaths with war crimes.
The mass burial site mirrors Ukrainian authorities' discoveries in Bucha and Mariupol. UPI says this most recent find is likely the largest makeshift graveyard they've found to date. News reports have conjectured who's responsible for digging the plots or constructing crosses for the burial sites.
Reports of Torture
Ukrainian investigators have also uncovered probable evidence of torture chambers in the region. They describe dark basements lined with linoleum flooring, which is "easy to wash so that no traces of blood remain." Officials claim to have testimony from survivors who suffered in these locations at the hands of Russian soldiers.
Ukrainian Deputy Interior Minister Yevhen Enin described the conditions as "completely inhuman," noting signs of "violent death" in some recovered bodies. Authorities suspect Putin's soldiers resorted to brutal tactics, such as cutting off ears, to "de-Nazify" Ukraine. Enin alleges similar torture locations have appeared in Balakliya and Volchansk.
Devastation Everywhere
The regions Kyiv has managed to retake haven't fared much better than their residents. Zelenskyy alleged occupied areas suffered widespread decimation, saying the invaders left some cities with "not a single undamaged house." The Ukrainian president said the soldiers "turned schools into garbage dumps and churches […] into toilets."
European Union chief Ursula von der Leyen, who recently met with Zelenskyy, said the organization supports Ukraine's continued efforts against these atrocities. She asserted nations needed to keep supporting the defending nation with the necessary equipment, adding the country's military has proven itself capable with the supplies.
The mass burials are just one piece of evidence in a more extensive array of offenses. Deputy Interior Minister Enin promised authorities are documenting every possible war crime. Officials hope DNA testing will shed light on the hundreds of bodies they're exhuming from the grave sites while offering more evidence to use against their killers in court.
Meanwhile, nearly the entire world is watching.
Copyright 2022, UnitedHeadlines.com