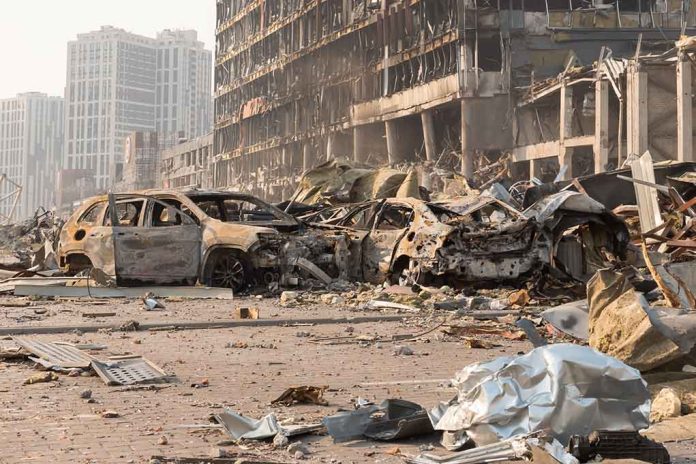 (UnitedHeadlines.com) – A Russian strike devastated part of the Ukrainian city Dnipro on January 14, toppling an apartment building and killing at least 45 civilians — one of whom was an 11-month-old baby boy. One of President Volodymyr Zelenskyy's most popular advisors, Oleksiy Arestovych, spoke too soon when he remarked on social media that local forces had shot down the missile before it destroyed the building. The move, which had destructive effects of its own, led to the advisor's prompt apology and public resignation.
Arestovych took to his YouTube channel, which The Hill reports has over 1.6 million followers, only hours after the attack. The official had been posting daily updates on the social media site. He aired the video live, quickly fueling Russian spin doctors. The Kremlin's reporters ran with it, claiming their country's forces "do not strike residential buildings," so Ukraine had to have been responsible. The backlash was swift and heavy, with some officials demanding the advisor's dismissal, according to the BBC.
Zelensky adviser resigns after blaming Ukraine for Dnipro apartment bombing https://t.co/4FyLOWlr5x pic.twitter.com/ott9mYm1LA

— The Hill (@thehill) January 17, 2023
The Ukrainian Air Force was quick to post on Twitter, noting the missile that had hit the apartment building had been an Х-22 — a supersonic weapon that would have required a Patriot PAC-3 or SAMP-T to take down. Ukraine reportedly lacks that kind of technology. The Washington Post noted, however, that Ukraine recently sent up to 100 troops to the US on January 10 to learn how to use Patriot defense systems the following week.
On January 14, a 🇷🇺 Х-22 missile hit a residential building in the city of Dnipro.
🇺🇦 does not have the means to shoot down such missiles.
To shoot down such missiles, we need such systems as Patriot PAC-3 and SAMP-T.
All those guilty of terror will be punished!

— Ukrainian Air Force (@KpsZSU) January 15, 2023
The January 14 apartment strike destroyed 72 of the building's residences, leaving another "236 damaged beyond repair," reports the Associated Press. In total, about 400 people are now homeless due to the assault. Another 20 remain missing.
Arestovych apologized on Telegram, specifically to the people he had "deeply hurt by [his] prematurely erroneous version" of the events. Calling his initial statement a "fundamental error," the official posted his resignation letter.
Copyright 2023, UnitedHeadlines.com