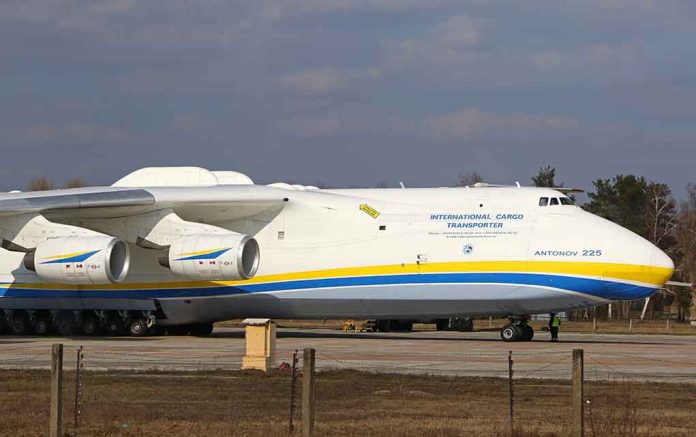 (UnitedHeadlines.com) – As the Russia-Ukraine conflict rages on, both countries are losing lives — and pieces of history. One casualty of the fighting so far comes in the form of what was once the world's largest operational aircraft. While its destruction is certainly unfortunate, Ukraine has announced its intention to rebuild the legendary aircraft.
The biggest plane in the world "Mriya" (The Dream) was destroyed by Russian occupants on an airfield near Kyiv. We will rebuild the plane. We will fulfill our dream of a strong, free, and democratic Ukraine. pic.twitter.com/Gy6DN8E1VR

— Ukraine / Україна (@Ukraine) February 27, 2022
The massive six-engine aircraft, an Antonov-225, known as "Mriya" ("The Dream" in Ukrainian), was the only one of its kind. The airport housing the massive plane came under attack by Russian forces as they neared Kyiv, the nation's capital. The Ukrainian Defence Industry, UkrOboronProm, explained the massive aircraft couldn't leave the area as it was undergoing repairs at the time of the attack, leading to its demise.
UkrOboronProm noted that rebuilding the massive cargo plane will be time consuming and resource intensive, with an estimated $3 billion price tag to restore the Mriya to its former glory. Aside from its record size, the An-225 also possessed record lifting capabilities, able to carry up to 250 tons. There is a second airframe for the massive plane, which could greatly reduce the costs associated with rebuilding.
Ukraine's loss of the Soviet-designed and built aircraft shows a different side to the casualties suffered from these conflicts. No battle goes without collateral damage, the Mriya is proof of the losses alongside all of the lives ripped apart by the ongoing conflict.
Copyright 2022, UnitedHeadlines.com