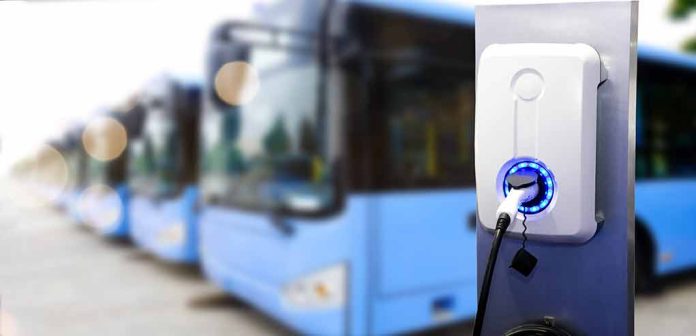 (UnitedHeadlines.com) – On Aug. 7, an electric bus company that received support from the Biden administration filed for bankruptcy.
During his presidency, Proterra has been promoted by President Joe Biden as "the future." In her official capacity, Biden's Energy Secretary Jennifer Granholm also promoted the company even though she had more than a million dollars worth of stock in the company during her first few months as Energy Secretary. She sold the shares almost 100 days after her confirmation. She had also previously served on Proterra's board of directors.
In 2021, three months after he took office, Biden held a virtual tour of Proterra's factory in South Carolina to help promote his infrastructure plan. He promoted the company as part of his infrastructure plan again in June 2021 during a trip to Wisconsin.
Granholm and Vice President Kamala Harris that $200 million in Department of Energy grants had been awarded to 25 projects in November 2021. These included $127 million in "SuperTruck 3" grants, of which about $76.8 million went to a company that had ties to Proterra.
In December 2021, Transportation Secretary Pete Buttigieg and Harris promoted the company by using Proterra's buses as a backdrop at an event. In March 2022, Biden again promoted the company during a speech.
In February 2023, Proterra CEO Gareth Joyce was appointed by Biden to serve on his Export Council, which gives Biden advice on international trade.
More than 1,300 electric buses were sold by the company to public transit systems located in the U.S. as well as Canada.
However, in its Chapter 11 bankruptcy filing, the CEO Gareth Joyce said the business has been impacted by "various market and macroeconomic headwinds."
When Biden took office Proterra was valued at $1.6 billion. On Aug. 7, Proterra's market value was $362 million market value.
The Burlingame, California-based company was founded in 2004, raising "about $682 million in venture capital" from investors such as Soros Fund Management, Tao Capital Partners, GM Ventures, and Daimler.
Copyright 2023, UnitedHeadlines.com