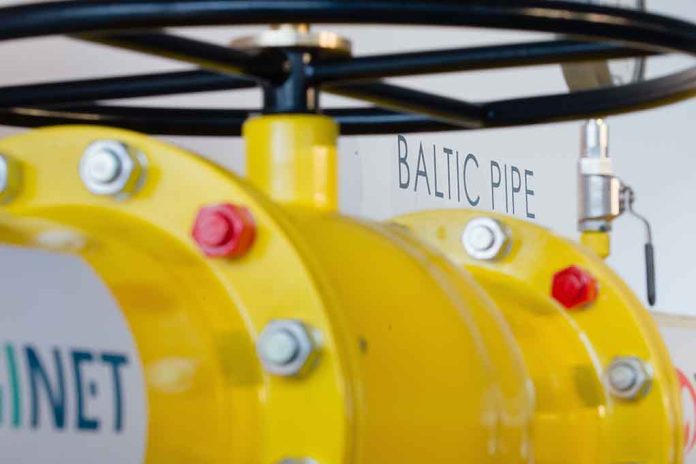 New Gas Pipeline to Europe Now Fully Operational.
(UnitedHeadlines.com) – Russia's attack on Ukraine and damage to the Nord Stream pipelines in the Baltic Sea have left Europe at an energy deficit. On November 30, Energinet announced the fully operational status of the Baltic Pipe, which connects the gas systems supplying Denmark, Norway, and Poland. European countries have anticipated the project as a promising alternative to Russian energy. Yet, damage to the Nord Stream pipeline leaves genuine concerns that this new system might also have vulnerabilities.
Torben Brabo, Energinet's director of international relations, celebrated the event, exclaiming, "It's a huge day for us in Europe." Baltic Pipe took three years of planning and construction, including over 68 miles of underwater pipes in the North Sea and roughly 130 miles of work across terrain in Denmark and Poland. Problems stemming from bad weather, delays related to the COVID-19 pandemic, and issues with environmental permitting all added unique challenges to the project.
New gas pipeline begins full service to Europe https://t.co/nzs4YfrsIE

— UPI.com (@UPI) November 30, 2022
The effort required strong communication between the countries involved, who hope it will substantiate their first step toward independence from Russian energy and a slow but steady transition toward greener alternatives.
Still, the new pipeline doesn't excite everyone. The New York Times reports safety concerns, especially in light of the damage the Nord Stream Pipeline sustained in September, apparently due to sabotage. The event showed these systems' vulnerability because they lie just beneath the open water. Polish authorities maintain the lines under surveillance, but will a watchful eye be enough to avert every threat?
Copyright 2022, UnitedHeadlines.com