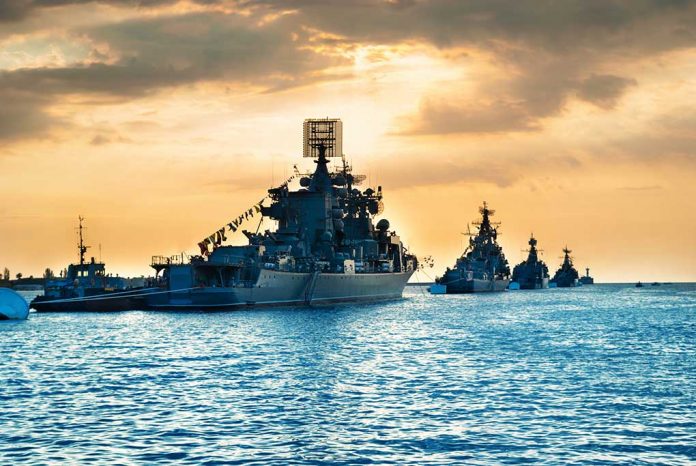 (UnitedHeadlines.com) – The largest war games in the world will begin this year. The US Navy plans to execute exercises involving 25,000 military personnel in locations across 17 different time zones. Officials believe this will showcase the US Military's readiness to respond to global conflict events. But what's really driving the upcoming show of force?
According to Military.com, the US Navy and Marine Corps are working closer together than they ever have before to deter aggression from China and Russia. The two branches will collaborate on scenarios expected to become common in the event of a conflict.
After nearly 2 decades focused on asymmetrical threats the US is finally refocusing on the possibility of a great power conflict in the 21st Century. Preparedness and readiness are essential to deter such conflicts from ever happening.https://t.co/NDSHXBUwcR

— ⛪ℭ𝔞𝔯𝔩𝔱𝔬𝔫 ℌ𝔲𝔣𝔣𝔪𝔞𝔫🇺🇸 (@CarltonHuffman) August 5, 2021
Tensions between the US and its adversaries, including China, Russia, and Iran, have been on the rise for some time now. The UK's Sun newspaper recently suggested these "war games" may be part of a larger-scale operation to prepare for the eventuality of World War III.
The Large Scale Exercise 2021 (LSE) is similar in scale to exercises that took place during the Cold War era of the late 1940s and early 1950s.
Moscow and Beijing have yet to make any statement on the large-scale event. Thus, it's difficult to determine how they might respond or if they will see it as a show of force. They may ignore it altogether — or they might respond with their own cooperative efforts.
Copyright 2021, UnitedHeadlines.com