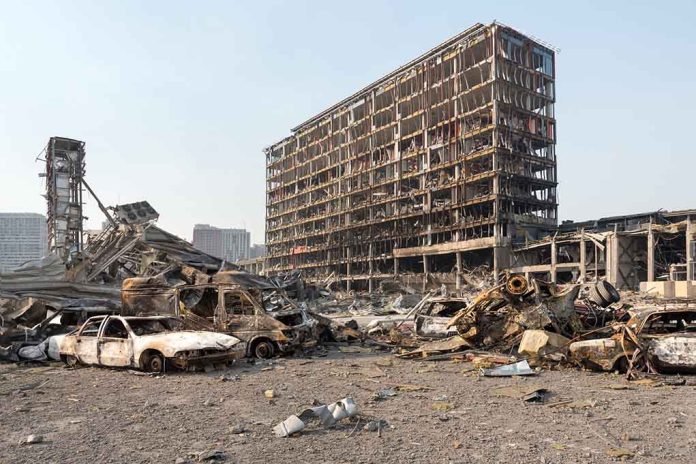 Here's How Much It Will Cost To Save Ukraine…
(UnitedHeadlines.com) – The war in Ukraine is well into its third month and doesn't seem to be coming to an end anytime soon. When the conflict does eventually wind down, however, Ukraine is going to need to rebuild. Russia has all but decimated much of the country, meaning it's going to take a lot of money and time to restore it.
Ukraine's Devastation
According to a report from National Public Radio (NPR), President Volodymyr Zelenskyy claims that as of late April, thousands of structures are in rubble. At least 1,500 educational buildings, 350 medical centers, 300 bridges, and 1,500 miles of roads have been either damaged or destroyed altogether. Zelenskyy estimated the total damaged living area to be around 32 million square feet.
Experts estimate the cost to rebuild Ukraine to be hundreds of billions of dollars — a tall order for a country the World Bank estimates has lost 45% of its economy. So, how will they pay for it?
Rebuilding Ukraine
To understand what it would take to rebuild the war-torn country, NPR spoke with two economists from the University of California, Berkeley: Barry Eichengreen, an economic historian who has studied Europe's post-war recovery, and Yuriy Gorodnichenko, a Ukrainian economist.
Gorodnichenko noted that all the images of Ukraine show buildings reduced to rubble, adding that nearly every single building in large cities like Kharkiv has some kind of damage. The economist added that it wasn't just residential areas the war has impacted; it's critical infrastructure, like roads, bridges, railroads, steel mills, and refineries, as well. Gorodnichenko estimates the cost of repairs to be between $100 and $200 billion.
The Kyiv School of Economics estimates that the war is costing Ukraine $4.5 billion per week, with a total estimated cost of $600 billion in economic losses.
Despite the destruction Russia has caused, experts believe Ukraine has a unique opportunity to modernize itself, noting that much of the country's infrastructure and housing is grossly outdated. They noted that not only will rebuilding reduce Ukraine's carbon footprint, but it will also reduce the amount the country relies on Russia for oil and natural gas.
Who's Going to Pay?
It's obvious Ukraine is in no position to pay for these changes itself. The United Nations has pledged $9 billion for the rebuilding effort. While the United States has already sent billions of dollars in aid to the country, it's likely that US taxpayers will help Ukraine rebuild after the war as well.
In addition, Gorodnichenko mentioned Ukraine could freeze Russian assets as a way to help pay for the damages. The international community may find a way to make Russia pay to rebuild Ukraine, too. After all, the attacks are behind the need to rebuild in the first place.
Copyright 2022, UnitedHeadlines.com