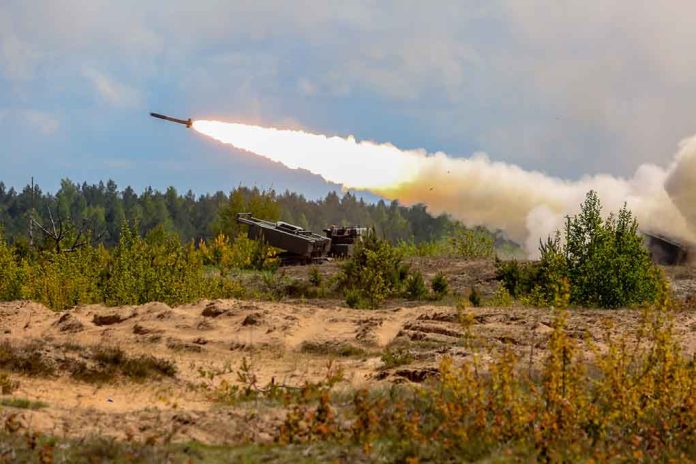 Vladimir Putin Disaster – Russian Bases Hit!
(UnitedHeadlines.com) – As the battle for Ukraine rages on, President Volodymyr Zelenskyy's military seems no longer to be exclusively defensive. Ukrainian forces aren't content with trying to protect their homeland. They're starting to fight to reclaim what they've lost.
Ukraine HIMARS Strike Russian Bases During Major Counter-Attackhttps://t.co/tFXwfPvho5

— Siri Rathod (@sirimahanthesh) August 3, 2022
According to Obozrevatel, a local Ukrainian media platform, the country's fighting force used US-supplied High Mobility Artillery Rocket Systems (HIMARS) to damage a Russian base located in Chornobaivka, on the outskirts of Kherson. Ukraine claims to have also struck three strongholds Russia has in the Beryslav and Bashtanka Raions, as well as a separate ammo warehouse in the same region.
These counterattacks could lay a foundation for Ukrainians to regain control of Kherson, which would help them recapture the vital Odesa Oblast — the country's most important access point to the Black Sea. Newsweek noted that if Ukraine could liberate all of Kherson from the Russians, it would sever the connection invading forces have to Crimea, which Putin's forces annexed in 2014.
Officials in Ukraine and the United States have asserted the HIMARS are a game-changer, likely the reason the US will be sending the nation even more of the weapons as part of the new $550 million package aimed to assist President Zelenskyy's efforts. Ukraine has also used the rocket systems to strike Russian bases and depots far beyond the frontlines and to damage several bridges, making it more difficult for the invading force to call reinforcements.
Copyright 2022, UnitedHeadlines.com