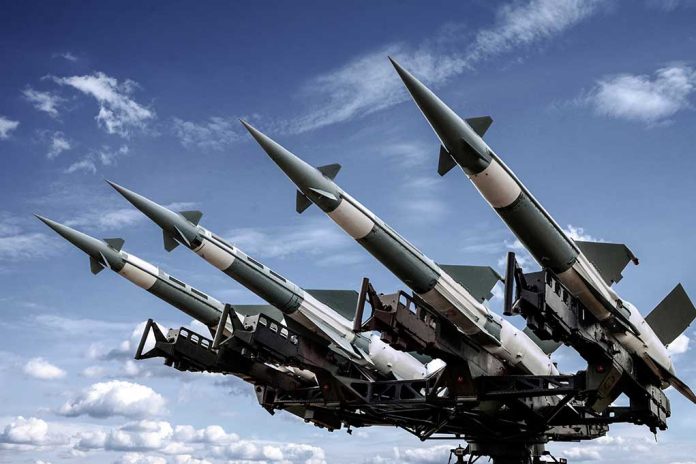 U.S. Missile Controversy – Ukraine Calls Putin's Bluff!
(UnitedHeadlines.com) – The Ukrainian War has reached its five-month mark. Both sides have taken heavy losses as the international community has supported Ukraine in its effort to fight back against its invaders. Now the two embattled countries are arguing about whether or not Russia has the ability to shoot down missiles the US has provided.
Ukraine's Side
A video that Ukraine's internal affairs advisor Anton Gerashchenko and news outlet NEXTA tweeted showed two rockets launching and eventually exploding on the horizon. The caption noted that Russian air defenses were incapable of intercepting the American-made M142 High Mobility Artillery Rocket System (HIMARS) missiles.
#Russian air defense unsuccessfully tries to shoot down HIMARS missiles flying towards the ammunition depot in #Skadovsk, #Ukraine, reports advisor to the Minister of Internal Affairs of Ukraine @Gerashchenko_en. pic.twitter.com/dLnUbg4fZR

— NEXTA (@nexta_tv) July 21, 2022
The United States also supplied Ukraine with M31 rockets to launch from the provided HIMARS. These projectiles have astounding capabilities, being able to hit targets as far away as 52 miles within a 16-foot radius of the intended objective. The combination has served Ukrainian forces well, with reports of troops using the weapons to destroy dozens of Russian ammo depots and command centers.
More Help on the Way
The Department of Defense tweeted a video of a Pentagon press conference in which Secretary of Defense Lloyd Austin told reporters the US would keep providing Ukraine with "historic levels" of assistance in its battle against Russia. The Defense Secretary noted American forces would provide four additional HIMARS to the war-torn country.
.@SecDef: [the next assistance package] will include four more HIMARS advanced rocket systems, which the Ukrainians have been using so effectively and which have made such a difference on the battlefield. pic.twitter.com/lsns28gzEz

— Department of Defense 🇺🇸 (@DeptofDefense) July 20, 2022
During a separate conference, US General Mark Milley claimed the conflict was a "grinding war of attrition." Milley explained that Ukraine hasn't given up the Donbas region yet, despite losing ground. The general noted that while Russia has made progress in the area, its troops have failed to achieve operational objectives.
Russian Rebuttal
While Ukraine asserted its invaders can't shoot down the US HIMARS, Russia disagrees. Newsweek reported that Igor Konashenkov, a spokesman for the Russian Defense Ministry, claimed Putin's army had in fact destroyed two of the HIMARS between July 5 and 20 in Malotaranovka. Konashenkov added that in Krasnoarmeysk, Russian forces neutralized another rocket system and a transport loading vehicle. The spokesman pointed to a fourth HIMARS that they had destroyed near Konstantinovka.
Unfortunately, finding a source that's unbiased toward either country to verify each side's claims is difficult. In a world where fake news has become commonplace, the spin may very well be heavy on multiple accounts. Do you think Ukraine is correct about Russia not being able to shoot down the US rockets, or is Russia the one telling the truth?
Copyright 2022, UnitedHeadlines.com