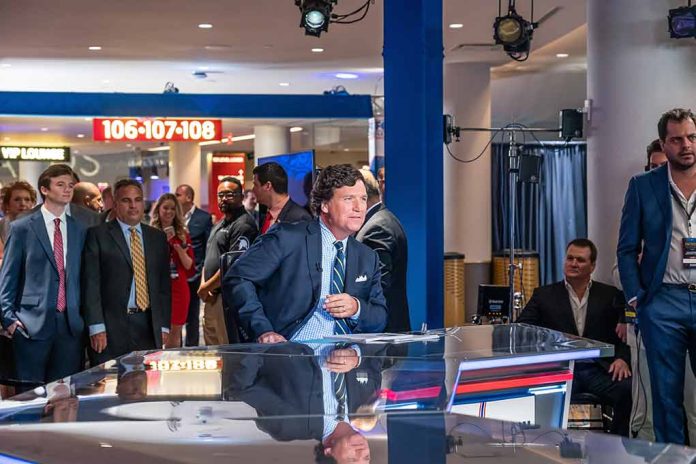 (UnitedHeadlines.com) – On July 7, Tucker Carlson spoke to Russell Brand on the "Stay Free" podcast about his firing from Fox News, calling it unexpected.
While Carlson stated it was not the first time he had been fired, he was shocked but not "really shocked" nor was he mad. He stated that when working for someone else, the decision of where or not you work there is up to them though Carlson went on to state he does not know why he was fired.
Carlson said in life he tends to take the "long view" and Carlson went on to tell Brand he wished Fox well.
Since being fired, Carlson said he has enjoyed spending time with his wife, fishing, as well as playing with his dogs. Though Carlson did say he worries about losing his drive if he enjoys it too much.
In April, Carlson was fired, though no reason has been given publicly for the network firing its top-rated host. Since then, Carlson has started his own show hosted on Twitter. Since June 6, he has posted 8 episodes of the show on Twitter with the first few videos bringing big numbers. The first video Carlson posted is reported to have about 120 million views, while the second video had about 60.7 million views. A third video shows about 104.2 million views currently. Numbers for the next five videos ranged between 8.8 million views and 32.5 million views so far.
In June, Fox News issued a "cease and desist" to Carlson, accusing him of breach of contract for being in violation of his contract non-compete clause.
Before Carlson began working at Fox News in 2009, he worked at both MSNBC and CNN. From November 2016 to April 2023, he was the host of one of the highest-rated primetime shows on cable television, "Tucker Carlson Tonight." In March, his show had 3.25 million viewers. Carlson also founded the Daily Caller, a conservative website.
Copyright 2023, UnitedHeadlines.com