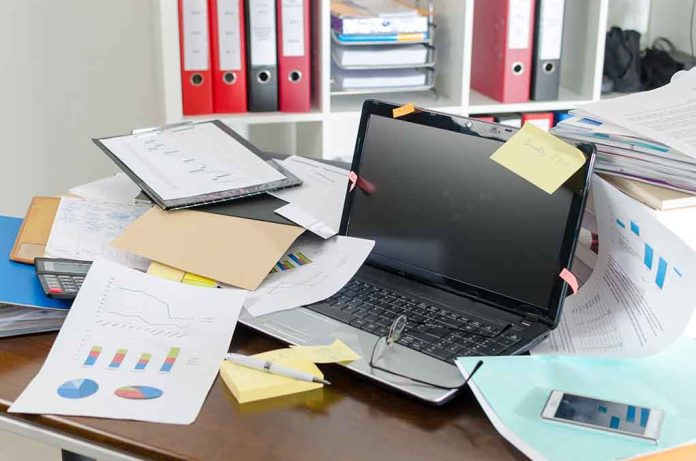 (UnitedHeadlines.com) – A laptop belonging to an aide of former President Trump, along with a folder with classified markings were turned over to the Justice Department voluntarily by Trump's lawyers. The folder was first discovered in mid-January, though it is not clear what classification markings were on the folder discovered or what might have been inside.
The move is the latest as the Justice Department works to recover classified documents from former presidents. The search for classified documents now involves President Biden, Trump, and former Vice President Mike Pence.
A Trump spokesperson, who talked with ABC News, called the government's ongoing investigation "nothing more than a targeted, politically motivated witch hunt." The spokesperson added that it was being done to stop the American people from re-electing President Trump in the next election.
The spokesperson went on to add that just like the other hoaxes about President Trump, the new effort would also end in failure.
In  August 2022, FBI agents executed a search warrant at Mar-a-Lago in which they recovered boxes containing more than 100 documents with classification markings, some of which included records classified at the top-secret level. The Justice Department has appointed a special counsel to investigate the documents.
Trump's legal team also supervised another search of Mar-a-Lago several weeks ago  during which additional pages with classified markings were found and handed over to the DOJ.
The Justice Department has also appointed a special counsel to investigate the classified documents found Jan. 12 inside President Biden's garage with his Corvette, and inside his home in Wilmington, Delaware. Documents with classified markings were also discovered at Biden's office at the Penn Biden Center in Washington, D.C.
Pence reported a "small number" of classified documents at his home in Indiana, which the FBI recovered during a voluntary search of his house Friday, Feb. 3.
Copyright 2023, UnitedHeadlines.com