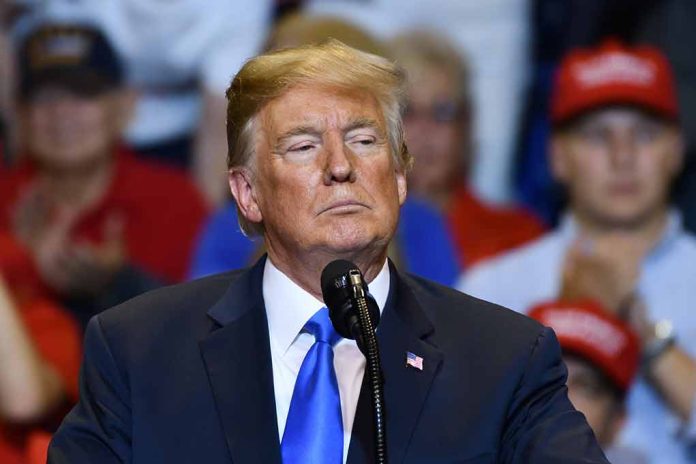 (UnitedHeadlines.com) – During a June 24 speech, former President Donald Trump went into detail about his plan for immigration policy and protecting the southern border if he is elected in 2024.
During his speech at the Road to a Majority Conference, Trump laid out the details of the plan he would enact if he is elected president. The Faith & Freedom Coalition held the conference in Washington D.C.
The first detail of his plan includes ending the automatic citizenship for children of illegal aliens, a policy he referred to as "unfair for our country." Trump stated, if elected, he would end the policy that allows the children of illegal aliens to automatically become U.S. citizens by executive order on his first day in office.
He would reinstate policies from his past administration such as the Remain in Mexico policy as well as the Safe Third Agreement. He would also put a ban on those seeking asylum, as well as restart construction on the border wall. The prosecution policy, which was responsible for record numbers of illegal alien prosecutions who were then deported, would also be reinstated.
Title 42, which expired in May, would also be reinstated due to the diseases being brought into the country by illegal aliens, Trump stated. He stated the illegal aliens crossing the southern border would be deported quickly. He said the policy would be used as a way to put an end to the trafficking of children by returning trafficked children to their families quickly.
Trump also shared his vision of shifting "existing federal law enforcement apparatus to immigration enforcement." This vision includes moving DEA, FBI, and ATF as well as those who work at Homeland Security to the border crisis. Troops would also be deployed to the southern border.
In listing his policies, Trump said while we do want people breaking the law to come into the U.S., we want people to "come into our country legally."
Copyright 2023, UnitedHeadlines.com