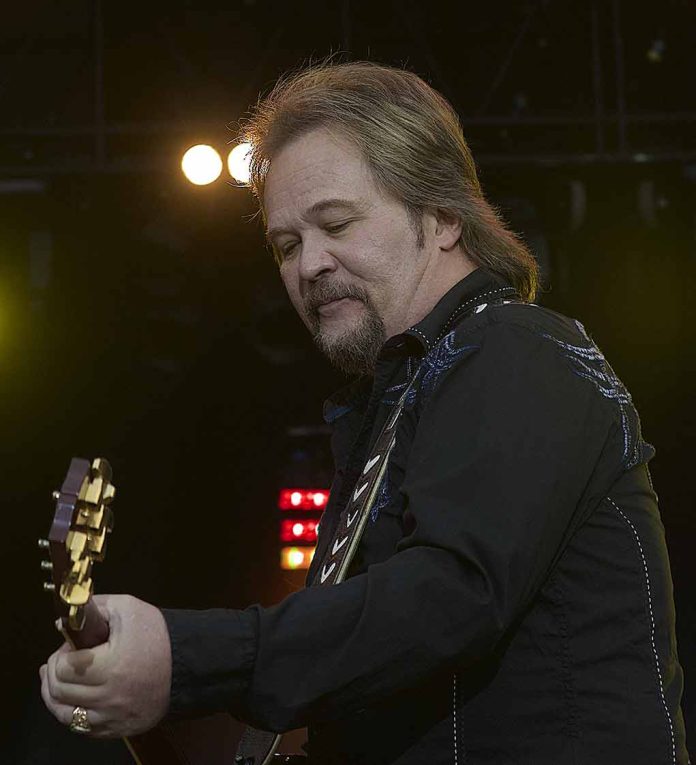 (UnitedHeadlines.com) – Country artist Travis Tritt, 60, has hinted that he is participating in boycotting Fox News after Tucker Carlson's departure from the network. Supporters began calling for a boycott of the network after his departure was announced.
Tritt recently liked two separate tweets posted on Twitter from users who said they are boycotting Fox News.
The first tweet was posted by political influencer Rogan O'Handley, who wrote that he hasn't watched the network since Carlon's departure and that he is not alone.
The second tweet was posted by Juanita Broaddrick who said she was still watching along with a link to an article that Sean Hannity would be moving to Carlson's spot on the network.
This isn't the first recent boycott Tritt has participated in. In April, after the partnership between Bud Light and transgender influencer Dylan Mulvaney, Tritt took to Twitter to announce his thoughts.
In a tweet he stated Anheuser-Busch was being dropped from his tour, stating others were doing the same.
On April 24, it was announced that Carlson, 54, had parted ways. Carlson's 8 p.m. primetime show was one of the most watched on not only Fox News but also on cable TV. His show that ran for 6 years, "Tucker Carlson Tonight," became the highest-rated cable news program for the age 25 to 54 demographic. The show had 3.25 million viewers in March. Rupert Murdoch later reported that Carlson had been fired, though no reason was cited at the time for his firing. Carlson took to Twitter on April 26, posting an official video for his supporters. It was announced in a May 9 video that Carlson would be starting a new show, which would be hosted on Twitter. In the video, he stated that the "news you consume is a lie."
Since Carlon's departure, Fox News has lost half the viewers in that 8 p.m. timeslot, with ratings dropping to a low of 1.3 million viewers.
Copyright 2023, UnitedHeadlines.com