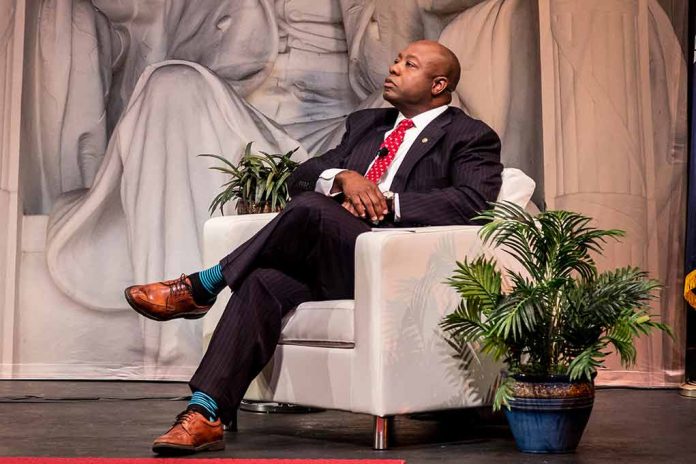 (UnitedHeadlines.com) – South Carolina Sen. Tim Scott is speaking out after racially charged attacks by the left-leaning panelists on ABC's "The View."
Whoopi Goldberg, host of "The View" said that Scott has what she called "Clarence Thomas syndrome."  Thomas, who is from Georgia, is a Black conservative U.S. Supreme Court justice. He is often attacked for being a Black conservative, which Democrats believe is wrong based on his skin color.
Sunny Hostin, a co-host on "The View" went on to say that his issue is that he thinks because he was successful after coming from an impoverished southern Black family that "everyone can make it." She claimed he is the exception.
Ana Navarro commented that she was happy he entered the race, just because he was Black, even though she stated she disagreed with his politics because he is Republican.
Sara Haines also commented on the diversity of the Republican candidates, with two Black men, an Indian American man, and an Indian American woman.
In response to the comments, Scott spoke out with Trey Gowdy on Fox News saying Hostin has it wrong. He said that he is the rule. He also stated children aren't getting good educations in failing public schools that are run by left-wing teachers' unions. He stated that school choice would benefit all children, "Americans, African Americans, Hispanic Americans."
Scott also said that there is no doubt that the left's culture of "victimhood" which "eats away at the soul of America" is disproved by his life. He went on to talk about his grandfather, who worked in the cotton fields and was illiterate, but said "You can be bitter or better, but you can't be both." Scott said that too many people believe the former mindset.
Scott, who was first elected in 2012, is the first Black senator to be elected in the South since Reconstruction When he was re-elected in 2022, he stated it would be his final six-year term serving in the Senate. Scott launched his campaign for the 2024 Republican nomination for President on May 22.
Copyright 2023, UnitedHeadlines.com