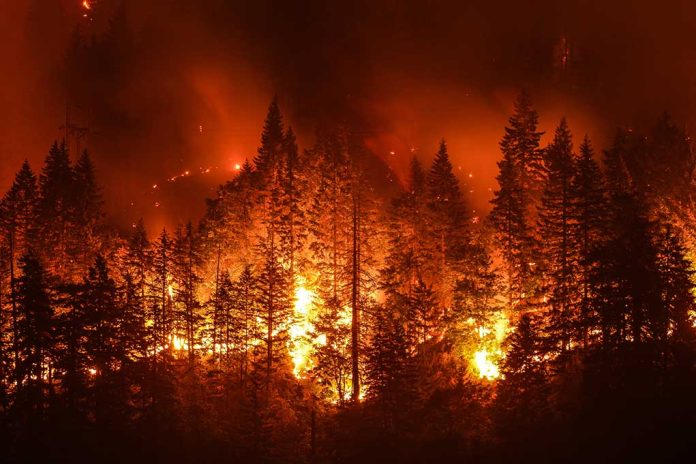 Depart of Energy Says Wildfires Causing Extreme Weather in Other States
(UnitedHeadlines.com) – Wildfires across the US West Coast have become all too common, which experts say is a direct symptom of climate change. Researchers at Colorado State University just released a study analyzing the impacts of these seasonal events, and they found a connection between the blazes and other weather patterns farther east. Most concerning was evidence that the phenomena played into one another, with infernos worsening weather conditions increasing the chances of future fires.
Wildfires cause significant health hazards, especially to the people close enough to feel the initial effects. But beyond the smoke and wake of destruction these events leave, the fires emit massive amounts of heat and aerosols, which have more far-reaching impacts on the atmosphere. According to the Colorado study, the changes can lead to increases in extreme weather conditions, including hail, floods, lightning, and tornadoes.
Wildfires in US west fueling extreme weather in other states, study finds https://t.co/BwuDg2KOeT

— Guardian news (@guardiannews) October 18, 2022
Just as concerning, blazes in California and Oregon appear to have impacts as far away as Nebraska and South Dakota. Even more, these occurrences can lead to the destruction of crops and infrastructure, which have the potential to affect the entire nation.
The issue is likely to worsen as climate change intensifies. Just as these events play into one another, they also contribute to the cause. Large fires displace massive amounts of carbon dioxide into the atmosphere, increasing the impacts and raising the probability of future fires.
US officials hope to tackle the issue with forest-thinning efforts in areas most likely to catch, promising $50 billion over the next 10 years to protect neighborhoods and surrounding regions. The White House is still trying to determine funding sources for the plan.
Copyright 2022, UnitedHeadlines.com