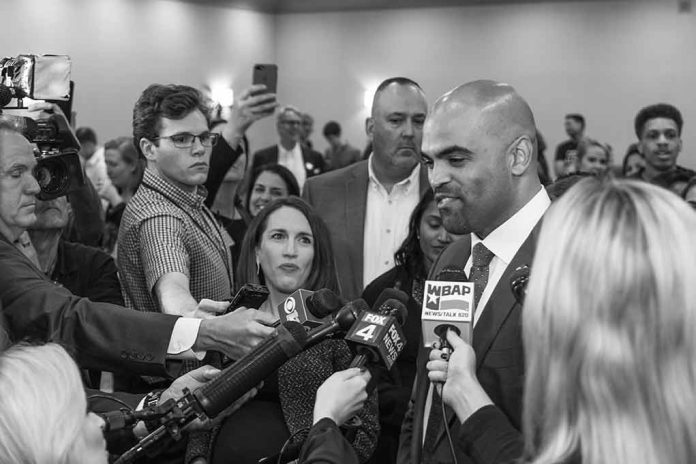 (UnitedHeadlines.com) – Democrat Rep. Colin Allred is set to announce he will be running to challenge incumbent Texas Sen. Ted Cruz.
Allred, first elected in 2018, currently represents the 32nd congressional district, which includes the northeast suburbs of Dallas. Allred is a civil rights attorney and former NFL linebacker for the Tennessee Titans.
Before running for his House seat, Allred worked in the Obama administration.
In 2018, Allred won his election against Rep. Pete Sessions, who was a long-term incumbent. Sessions, who was re-elected to the House in a different district, was the former chairman of the National Republican Congressional Committee and House Rules Committee. Allred has been re-elected twice, in 2020 and 2022.
He is seen as a rising star within the House Democratic Caucus, serving as a member of the leadership team which is led by Minority Whip and Massachusetts Rep. Katherine Clark. He previously served as a member of the leadership team under then-Speaker and California Rep. Nancy Pelosi.
In his congressional races, Allred received endorsements from the AFL-CIO as well as the U.S. Chamber of Commerce.
According to the federal election campaign filings, Allred has $2.2 million cash on hand for his Senate campaign.
In February, Cruz, who has $3.3 million cash on hand for his campaign, announced he would run for re-election. Cruz is currently serving his second term in the Senate. In 2018, Beto O'Rourke challenged Cruz, losing by 3 points.
A Democrat has not been elected to a statewide seat in Texas since 1994.
In 2024, there are 10 seats currently held by Republicans that are up for reelection, while there are 20 seats currently held by Democrats as well as 3 currently held by independents. The Republican seats are viewed as safe, while the Democrats will need to defend the swing states seats of Wisconsin, Arizona, Virginia, Michigan, and Pennsylvania, as well as the seats of Montana, Ohio, and West Virginia, states Trump won in 2020.
Copyright 2023, UnitedHeadlines.com