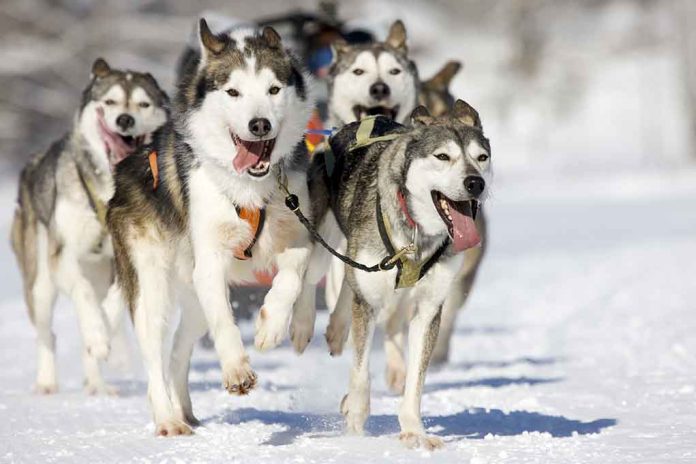 (UnitedHeadlines.com) – The Iditarod is a world-famous dog-team race in Alaska. It takes a strong will and a robust team of canines to get through the 1,000-mile trek. One racer who completed the event in 2019 is sharing her stories from the trail in a new book.
Blair Braverman grew up in California, but her mom's obsession with Alaska led her to the state when she turned 18. Once there, she learned about dog sledding, and it piqued her interest. Now, she and her husband, Quince Mountain, have 24 huskies, which take a lot of their time and attention.
"People think that sled dogs have to be big and strong because they think of the sport as pulling, but it's really more like running," @BlairBraverman says. "What they are is ultra marathoners and they're quite small and they're quite lean." https://t.co/FNhBUuPqU8

— Fresh Air (@nprfreshair) November 16, 2021
Braverman's book, "Dogs on the Trail," mainly focuses on caring for her dogs. It talks about what she does to ensure they're happy and healthy. Braverman also explains what it takes to train the sled team and how they work together during a race. The novel covers a year in her and Mountain's lives.
She describes how she has an interesting bond with her alpha/lead dog, Pepe, saying they share a mutual trust. Blair and Pepe work together to keep the other dogs on track and ensure their energy stays high.
Braverman also disclosed her top tip for dog racing: Don't ever let go. She said when people fall from a dogsled, they want to let go to avoid being dragged by the dogs, but that's a huge mistake. The racer explained if a person lets go, he or she ends up stuck in the wilderness without supplies or any way to get help. So, she advises keeping a good hold on the reins. The adventurer has a tight grip on hers with no signs of letting go anytime soon.
Copyright 2021, UnitedHeadlines.com