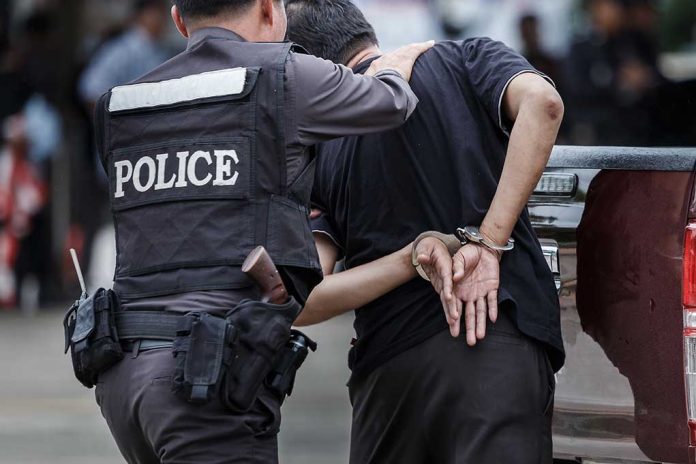 (UnitedHeadlines.com) – A string of attacks on homeless people in Washington, D.C. and New York City prompted a multi-state manhunt for the responsible party. The manhunt concluded after authorities followed multiple leads to a suspect they have reason to believe is responsible for the attacks.
Moment 'homeless serial killer' is arrested at gunpoint at DC gas station https://t.co/Rsqq58BV2P

— Daily Mail US (@DailyMail) March 15, 2022
The Bureau of Alcohol, Tobacco, Firearms, and Explosives (ATF) took 30-year-old Gerald Brevard into custody during the morning hours of March 15. James Essig, Chief of Detectives for the New York City Police Department, detailed the arrest. Essig claims ATF agents didn't find a weapon, but Brevard was wearing clothes similar to a suspect's in security footage depicting the two shootings on March 10.
One video shows the suspect nudging a homeless person before opening fire and killing them. Police found a second body inside a burning tent with multiple stab and gunshot wounds. Authorities in D.C. say ballistics match the same firearm to all five victims, two of whom died.
NBC New York reported that Brevard had pleaded guilty to assault charges in 2018, but the judge found he was incompetent to stand trial. After he spent a stint in a psychiatric facility, authorities resentenced Brevard, only to suspend the sentencing once again. The father of Brevard claimed the justice system failed by identifying his son as mentally ill but not treating him for it.
Homicide detectives are currently questioning the suspect. The question is, does he deserve to serve time behind bars, or does he need mental health rehabilitation?
Copyright 2022, UnitedHeadlines.com