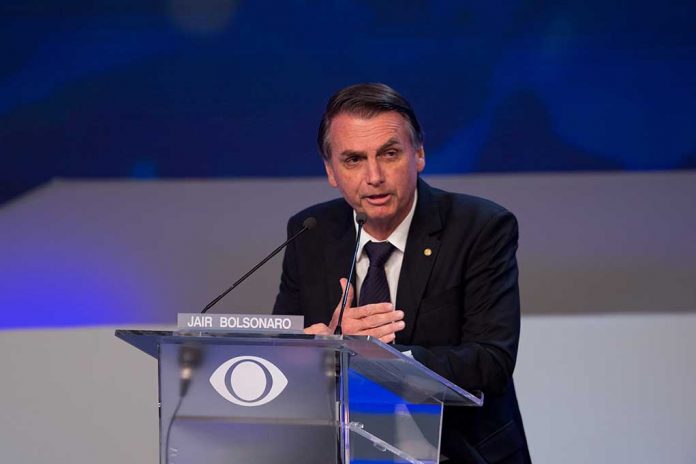 (UnitedHeadlines.com) – Brazilian President Jair Bolsonaro is in a heap of legal trouble. In a President Trump-like effort, he called upon his supporters to stand up and fight for their rights. It's obvious that the two leaders share similar goals. But will the South American country's commander-in-chief succeed where Trump did not?
President Bosonaro ramped up attacks on Brazil's courts after his feud with the Supreme Court and Justice Alexandre de Moraes came to a head. That's when he decided to ask his supporters to display a "show of force" on the country's Independence Day (September 7).
The Brazilian leader threatened to plunge Brazil into a constitutional crisis if they don't follow his lead at a Tuesday rally in San Paulo.
Tens of thousands of supporters of right-wing President Jair Bolsonaro heeded his call and turned out to rallies in Brazil as he stepped up his attacks on the country's Supreme Court and threatened to plunge Brazil into a constitutional crisis. https://t.co/tvpd1yQIQ6

— The Associated Press (@AP) September 8, 2021
The South American President first ripped into Justice Moraes and the Supreme Court, electrifying the crowd as he accused the court of making political arrests of his supporters. He then declared he will no longer adhere to Moraes's rulings, even if the Justice steps in to serve on the country's electoral tribunal next year.
That's set to occur right around the same time Bolsonaro is up for reelection in 2022. Notably, the Brazilian leader also plans to reject the results of that event if they don't fall in his favor.
In President Bolsonaro's mind, the people are out of patience. He says Justice Moraes' rulings are irrelevant: "For us, he no longer exists." They intend to ignore his efforts completely, regardless of how the people feel about it.
Bolsonaro rallied supporters to participate during the Independence Day event over the two-month period preceding September 7. He says he originally expected around 2 million people to attend the rally in San Paulo; just 125,000 showed up.
Copyright 2021, UnitedHeadlines.com