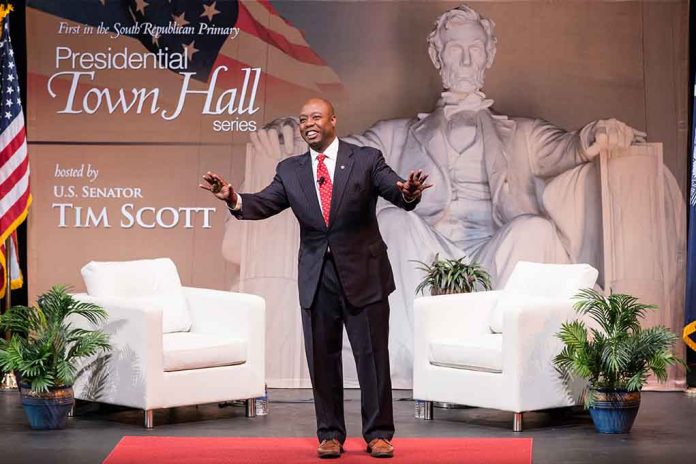 (UnitedHeadlines.com) – South Carolina Sen. Sen. Tim Scott, 57, announced April 12 that he is launching an exploratory committee, potentially running for the 2024 Republican nomination for president. 
Most politicians who have run for president have started their campaigns with the launch of the exploratory committee.
Scott made his announcement with a video message filmed near the Fort Sumter National Monument in Charleston, South Carolina, where the first battle of the Civil War was fought. April 12 is the 162nd anniversary of the start of the Civil War.
In February, he launched a listening tour focused on "Faith in America," which took him to states with early primaries, including Iowa where he was when he released his video announcement.
After Iowa, Scott travels to New Hampshire April 13. New Hampshire votes second on the Republican presidential primary calendar. He then will travel back to South Carolina, which votes third on the calendar, for a two-day donor summit.
The only Black Republican Senator, Scott was elected to the Senate in 2012. When he was re-elected in 2022 he stated it would be his final six-year term serving in the Senate.
Before he was elected to the Senate, Scott served in the House for one term. Before that, Scott served in the South Carolina state House. He also served on the Charleston County Council.
At the beginning of the year, Scott already had $20 million in his campaign fund from his fundraising efforts, money that could be transferred to a presidential campaign if he runs. The amount he has fundraised could give him a head start over some other candidates in the race.
Current candidates that are running for the 2024 Republican nomination for president include Trump, Asa Hutchinson, former governor of Arkansas, Nikki Haley, former governor of South Carolina and former United Nations ambassador, Vivek Ramaswamy, an entrepreneur. It is speculated that Florida Gov. Ron DeSantis will enter the race after the Florida Legislature closes its session in May.
Copyright 2023, UnitedHeadlines.com