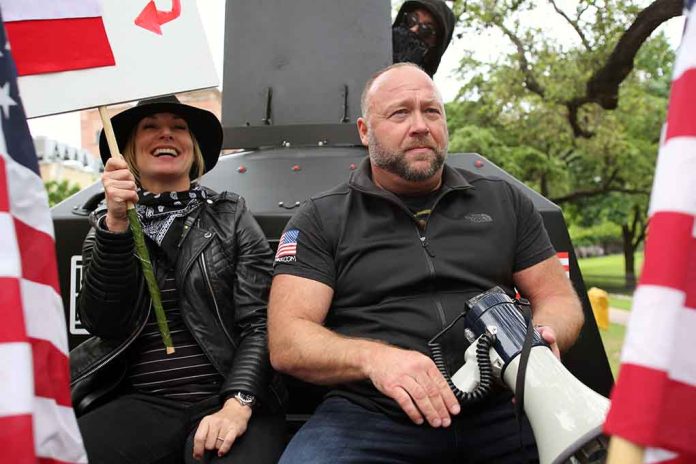 Alex Jones RETURNS – His Troubles Continue…
(UnitedHeadlines.com) – Alex Jones, the conspiracy theorist behind InfoWars, is back in the courtroom. The controversial media personality has been in hot water since he aired claims that the shooting tragedy at Sandy Hook Elementary School was a staged hoax. Jones received an order to pay one Texas family over $45 million on August 5. Now, a jury in Connecticut will decide his damages against him on behalf of 15 additional families.
The previous ruling found Jones liable for defamation, so these current proceedings will determine how much more he'll pay for the suffering he caused. Twenty first-grade children and six teachers died in the horrific event. The conservative shock jock's accusations that anti-gun activists staged the shooting prompted the media personality's fans to harass the victims' loved ones, whom the InfoWars host had initially claimed were "crisis actors." Given the number of plaintiffs in this current suit, the case threatens to impose an even larger sum against the defendant — up to $150 million.
Alex Jones set to go on trial a second time for calling the Sandy Hook Elementary School shooting a hoax and causing several of the victims' families emotional and psychological harm. https://t.co/esx8ZAlqD7

— NBC News (@NBCNews) September 12, 2022
A third trial for the remaining victims in Texas is pending.
The case against Jones has only mounted recently, and his credibility has diminished at every turn. He filed for bankruptcy on Infowars on July 29, claiming the initial judgment against him threatened to ruin his business. But NBC News reported in early August that the defendant's lawyer had accidentally sent a digital file containing his client's financial information to an attorney representing one of the aggrieved families, presenting evidence to the contrary. According to Insider, Jones' net worth could be as massive as $270 million.
Copyright 2022, UnitedHeadlines.com