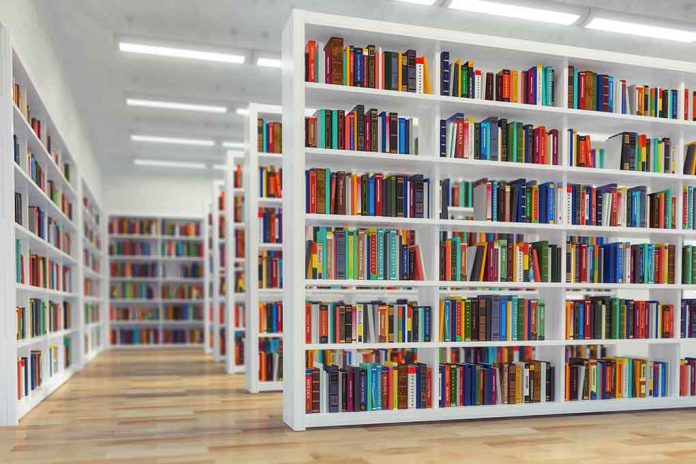 Cops Find SECRET TROVE Of 4,700 Messages – Librarian Led Away In Handcuffs
(UnitedHeadlines.com) – Fox News reported at least 181 educators faced charges for sex crimes between January and May of 2022. Research has shown roughly 96% of perpetrators in this type of situation are men. This time, the suspected predator is a female librarian from Colorado.
On August 18, the Colorado Springs Police Department received a warrant to arrest 45-year-old Sarah Jones. The former Mitchell High School library technology educator stands accused of sexually assaulting a student.
Mugshot Release: Sarah Jones

On June 14, 2022, the Colorado Springs Police Department's Crimes Against Children Unit was advised of a possible sexual assault on a child involving a sixteen-year-old former Mitchell High school student and an employee of Mitchell High School. pic.twitter.com/BoqgtqCZ6t

— Colorado Springs Police Department (@CSPDPIO) August 18, 2022
According to Fox 21, an out-of-state police agency contacted the victim, who is just 16 years old. After looking through his phone, officers discovered pictures with "implied nudity" from Jones. The cops downloaded the evidence, put it on a thumb drive, and sent it to the Colorado Springs department.
The Crimes Against Children Unit interviewed the alleged victim, who reportedly told the detectives that he met Jones at school when he was a sophomore. The boy told the teacher he didn't have a place to live and bounced "from house to house." He moved in with her around Christmas in 2021.
A few months later, the victim told investigators that he had sex with the educator while her husband was in the hospital and her kids were downstairs. The student claimed he had relations with her about five times.
Jones turned herself in to the police. She faces charges of sexual assault on a child by a person in a position of trust. The librarian faces up to six years in prison and a $2,000 to $500,000 fine.
Copyright 2022, UnitedHeadlines.com