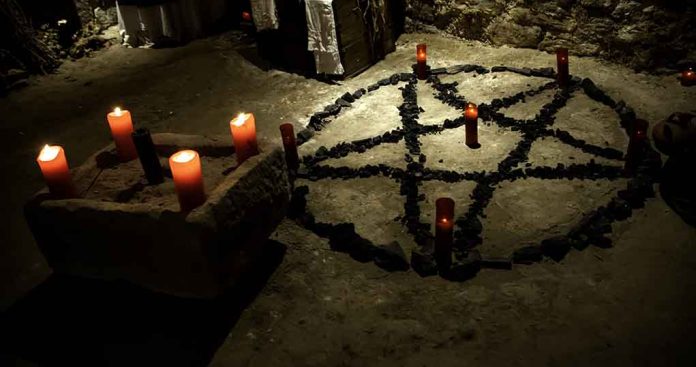 Self-Professed Pagans Try To "Reclaim" Downtown From Christians
(UnitedHeadlines.com) – Pagans, Satanists, atheists, and spiritualists in Tyler, Texas, celebrated their second annual Pagan Pride Fest on October 29. Event coordinators specifically chose Good Old Square for the location, citing the area as tied to "atrocities against BIPOC, LGBTQ+, Pagans, and… non-christian[sic] folk." Despite claims the gathering was all about positivity, reclamation, and honor, performances of "unbaptisms" and other concerning imagery left some residents silently praying for the souls in attendance.
Nonchristians congregated in a mass show of religious rejection, with many attendees denouncing the Christian faith. Some participants allowed a masked, robed individual to draw upside-down ashen crosses on their foreheads, after which they repeated, "Hail Satan." Certificates were available for a $10 fee, commemorating the occasion. According to the event release, the festival also featured a Halloween costume contest, pumpkin carving, and pagan vendors.
Video: People get inverted cross symbols on foreheads, recite 'Hail Satan' during 'unbaptism' ritual at Pagan Pride Fest https://t.co/LNhYbu0v9Q

— TheBlaze (@theblaze) October 31, 2022
The Blaze reported local Christians also came to the event to pray and offer demonstrations of their faith. Believers insisted they were there to "show love" without judgment. Conversely, some of the heathen attendees seemingly were there to cause a stir.
I talked to a mother and her child that were in attendance at the Satanic Temple event in Tyler, TX today.

The daughter stated that she "wants to bother Christians". pic.twitter.com/n5KZenajLn

— Tayler Hansen (@TaylerUSA) October 30, 2022
Costumes ridiculing nuns and priests also notably added to the anti-Christian vibe.
Pew Research reports roughly 63% of people in the United States identify as some form of Christian. The same poll shows about 29% of the population is agnostic, atheistic, or "nothing in particular." The number of nonbelievers has grown over the last decade, but the majority still stands. No festival or public display can change that fact.
Copyright 2022, UnitedHeadlines.com