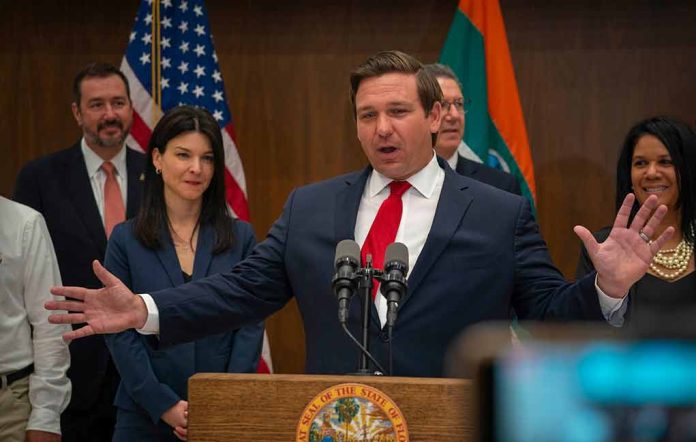 (UnitedHeadlines.com) – Polling shows Florida Gov. Ron DeSantis at a new low.
On July 26, the Civiqs poll showed DeSantis polling at his lowest numbers since the Civiqs poll began tracking DeSantis in May 2022. The survey asked if voters had a favorable view of DeSantis or an unfavorable view of him. Only 33 percent of those who responded to the poll have a positive view of DeSantis, while 57 percent have a negative view. Ten percent remain unsure. This leaves his net approval rating at -24.
In November 2022, 46 percent of voters had a favorable view of DeSantis, while 48 percent had an unfavorable view of him. Between the end of November and early December 2022, DeSantis' net approval rating was at its highest, at -1.
An average of around 110 people each day are surveyed about DeSantis, according to a Civiqs employee. The ongoing online poll surveyed a total of 48,132 registered voters between its launch on May 18, 2022, and July 26, 2023.
DeSantis was re-elected as governor of Florida in the November 2022 election and announced his campaign for the 2024 Republican presidential nomination on May 24. In polling for the 2024 Republican presidential nomination, DeSantis is currently polling second to former President Donald Trump.
On July 25, DeSantis stated that if he was elected, he would consider giving a position in his administration to Democratic candidate Robert F. Kennedy Jr. Though DeSantis called Kennedy "more liberal," he also stated they are aligned on some issues such as Dr. Anthony Fauci and corruption. He stated he would give a position within either the Centers for Disease Control and Prevention or Food and Drug Administration.
In an effort to restart his campaign and reduce expenses, DeSantis' campaign fired 38 staff members on July 24. DeSantis' campaign manager Generra Peck stated the campaign was taking "aggressive steps to streamline operations" in an effort to win the Republican presidential nomination.
Copyright 2023, UnitedHeadlines.com