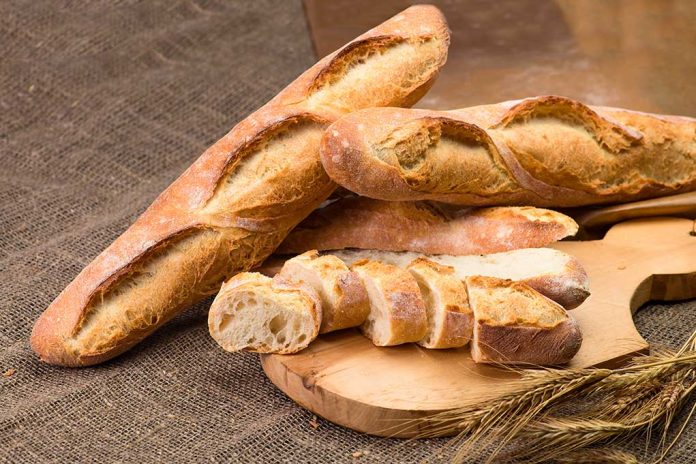 (UnitedHeadlines.com) – In the wake of the COVID-19 pandemic and resulting supply shortages, prices are rising everywhere. Wheat, a key ingredient in bread and other staples, has become scarce throughout Europe in recent months. Countries like France, which consumes roughly 10 billion baguettes a year, are feeling the impact of the wheat shortage in the form of rising prices.
It's easy to see why French people are concerned. The price of baguettes is often an accurate reflection of France's economy, and the French worry that the rising prices could indicate rising costs for other important national staple items.
"The baguette is precious. It has only gone up 23 centimes in the last 20 years," said the president of the French Confederation of Bakeries and Pastry Shops. https://t.co/vI0Lrsky1z

— Newsweek (@Newsweek) October 28, 2021
Bakeries all over France have already warned their customers that baguette prices could see an increase of three to five centimes (four to six cents), which would cause their overall price to exceed a dollar.
President of the French Confederation of Bakeries and Pastry Shops, Dominique Anract, told reporters that an increase of only three centimes could have severe consequences. He also noted that although at first glance a rise that small might not look like a big deal; it's a significant increase.
Anract added that the price of baguettes has only gone up by 23 centimes during the course of the last 20 years. Another Frenchman, an engineer named Frank Nguyen, claimed that there would be a large amount of resistance if the prices went up too much.
With any luck, global leaders can solve the problem with supply lines before it's too late. What do you think about Joe Biden's decision ot travel to Glasgow, Scotland, for a United Nations hosted climate summit instead of staying in the US to address looming supply shortages at home?
Copyright 2021, UnitedHeadlines.com