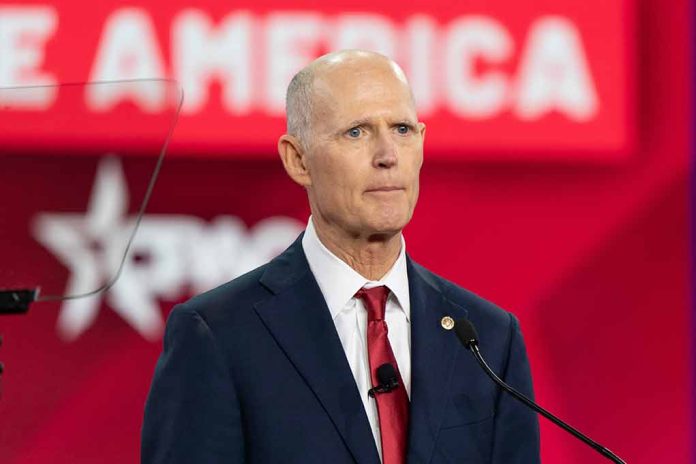 (UnitedHeadlines.com) – On May 23, Florida Sen. Rick Scott issued socialists who might visit Florida a formal travel advisory on Twitter.
In his statement, he said that the people of Florida will rebuff any attempt by socialists to spread the "oppression and poverty that Socialism" brings. Scott issued the statement in response to various social justice groups which have issued their own travel advisories saying Florida is unsafe for minority groups.
Scott stated his travel advisory is issued in "direct response to the Biden administration's attempts to erase capitalism." He stated that capitalism has brought the United States as well as Florida prosperity.
His advisory also notes that Floridians know the evils of leftist governments.
His tweet has received many responses about socialism and socialist organizations already operating in Florida. One response is from St. Petersburg city council member Richie Floyd, who successfully ran as a Democratic Socialist. Floyd shared Scott's tweet and attached a map showing the Democratic Socialists of America has chapters in Florida.
On May 20, a travel advisory for Florida was issued by the NAACP, saying that under Gov. Ron DeSantis the state of Florida is "hostile to Black Americans." Travel advisories have also been issued by the LGBTQ rights group, Equality Florida, as well as the civil rights organization, the League of United Latin American Citizens.
The advisory stated DeSantis is restricting diversity, equity, and inclusion programs and Black history in Florida schools. The advisory also states that Florida marginalizes and devalues contributions from people of color. The advisories come after DeSantis signed various educational bills that limit what can be taught in Florida schools. DeSantis, who has led the change in the laws in Florida, announced May 24 on Twitter that he is running for the 2024 Republican nomination for president.
Scott was first elected governor of Florida in 2010. He was re-elected in 2014. He was unable to seek a third term due to term limits, and in 2018, he was first elected senator. He is running for re-election in 2024.
Copyright 2023, UnitedHeadlines.com