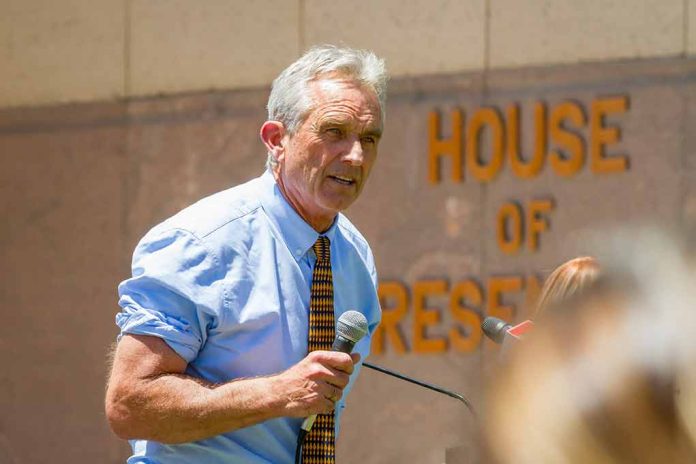 (UnitedHeadlines.com) – On June 5, Robert F. Kennedy Jr., 69, who is running for the 2024 Democratic nomination for president, shared his vision for the country and the top issues facing the country during a Twitter Spaces interview with Elon Musk.
During the interview, Kennedy stated that the border needed to be sealed. He said we have "created a humanitarian crisis at the border." He stated bad foreign policy by the U.S. involving South America and Central America is to blame for some of the illegal immigration. He went on to say that illegal immigration impacts U.S. citizens who are poor.
He discussed how he would not infringe on the Second Amendment in solving the issue of gun violence. He stated taking away the right to guns is "not the right thing" to do.
He discussed that he supports hardening security at schools, though he believes that is a temporary solution to the problem. He stated the solution requires understanding the underlying cause, placing blame on some of the drugs people are being prescribed in the U.S. He believes the pharmaceutical industry controls the Democratic Party.
Kennedy's discussion of the issues facing the country have caused the media, especially the New York Times, to lash out, accusing him of spreading misinformation and sharing right-wing talking points. The New York Times also claimed Kennedy "is a longtime propagator of baseless theories." CNN called Kennedy a "marginal candidate," while Rolling Stone classified Kennedy as a conspiracy theorist.
David Sacks, a venture capitalist, as well as Tulsi Gabbard, a former Democratic lawmaker, also joined the Twitter Spaces interview. The interview had 64,000 listeners tuning in live as well as over 1.8 million listeners since the interview aired.
Kennedy, who is currently polling second to President Joe Biden, is the nephew of the former President John F. Kennedy, who in 1963 was assassinated while in office, and the son of Robert F. Kennedy, a former U.S. attorney general as well as a former New York senator who was assassinated in 1968.
Copyright 2023, UnitedHeadlines.com