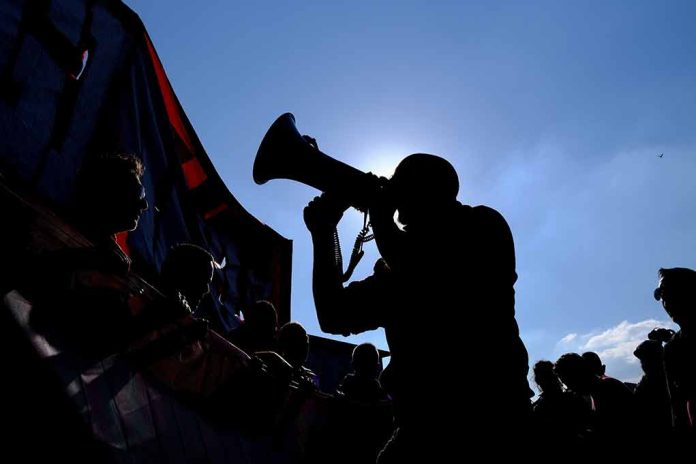 (UnitedHeadlines.com) – During a Midtown press conference on Sept. 15, New York Rep. Alexandria Ocasio-Cortez, New York Rep. Jerry Nadler as well as other New York Democrats were heckled by protestors and chants of "close the border." The protest comes as the migrant crisis in New York City continues to escalate.
As Ocasio-Cortez and other members of the Congressional Hispanic Caucus tried to speak outside Manhattan's Roosevelt Hotel, they were drowned out by comments such as "send them back." The lawmakers had just finished a tour of what is being used as the city's emergency shelter and were preparing to speak about the migrant crisis.
Signs with sayings such as "Americans first: Vetted & legal migrants only" were held by protestors who also asked for the Constitution to be respected by the politicians.
Ocasio-Cortez stated they were trying to "make sure that all the resources are necessary." She tried listing solutions to the migrant crisis such as speeding up the process for the migrants to be granted work authorizations.
New York Rep. Adriano Espaillat stated the delegation was at what is now being used as an emergency shelter for migrants to "see for themselves what the migration dynamic is in our nation."
One of the protesters, Jonathan Rinaldi, 44, was grabbed by a security guard and shoved behind a barricade at one point.
Some protestors such as David Rem, 59, said the migrants had "jumped" the immigration line for those such as his wife's children who have waited to come to the U.S. legally for seven years. He called this "a slap in the face to legal migration." Other protestors agreed.
In May, the Roosevelt Hotel was turned into a main arrival center for migrants being sent to the city. By July, the hotel shelter hit capacity and migrants began sleeping on the sidewalks around the hotel. Over 200 emergency sites have been opened by the city in response to the 110,000 migrants that have arrived in the city since spring 2022.
Copyright 2023, UnitedHeadlines.com