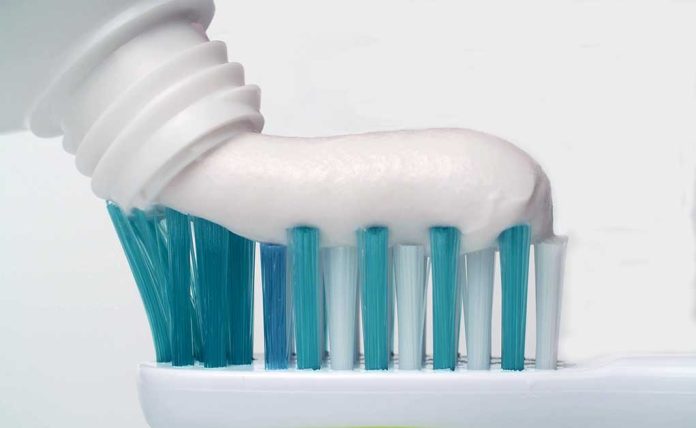 WARNING – Popular Toothpaste Recalled!
(UnitedHeadlines.com) – Family Dollar is a popular retailer for those looking to purchase items on a budget. Unfortunately, several of the company's products recently became compromised by incorrect temperatures at storage facilities. This mistake has led to a massive voluntary recall of hundreds of goods, including toothpaste and pain medications.
Family Dollar Recalls Over 400 Products Including Toothpaste, Pain Relief Medication
Family Dollar has issued a nationwide recall of at least 400 personal care and over-the-coun…
Please read the full story here: https://t.co/SBseovzzOy#BusinessMarkets #Compani… pic.twitter.com/ZNhEsQYqmk

— American Warrior (@Th0rKnight) July 26, 2022
The US Food and Drug Administration noted in a press release the Family Dollar recall impacts all 48 contiguous US states except Delaware because it didn't receive any of the improperly stored products; the franchise doesn't have any stores in Hawaii or Alaska. Currently, more than 400 over-the-counter items make the list, including Colgate and Crest toothpaste, pain medications like Advil and Aleve, deodorant, shampoo, hand sanitizer, sunscreen, and soap.
The company, a subsidiary of Dollar Tree, hasn't received any calls or complaints of people having adverse effects or illnesses due to the recalled items. The FDA mentioned the now-recalled goods shipped between May 1 and June 10.
Family Dollar is accepting returns of products affected by the recall without a receipt so long as they're brought back to their purchase location. The franchise is welcoming questions about the issue, directing people to call their customer service center between 9 a.m. and 5 p.m. EST at 844-636-7687. The company is also urging anyone that becomes ill or experiences adverse effects after using one of the products to contact their health care provider.
Copyright 2022, UnitedHeadlines.com