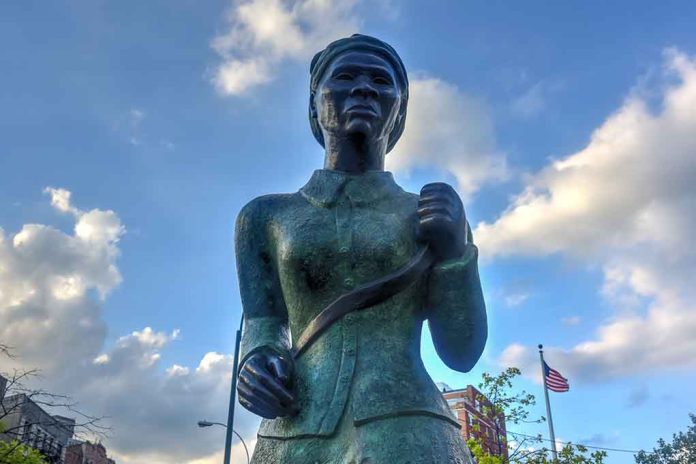 Business Owner Fights for New Federal Holiday
(UnitedHeadlines.com) – Harriet Tubman is unmistakably a prominent figure in US history. Her courage and dedication allowed her to successfully navigate slaves to their freedom. A woman of her stature deserves recognition, and a bookstore owner in Philadelphia is trying to honor her with a federal holiday.
Cooking Up a Plan
Jasmine Cook, the 38-year-old owner of Harriet's Bookshop, told NBC News that she's been a fan of Tubman since she was a kid, when she picked up the first book about the abolitionist. Cook learned everything she could about the Underground Railroad legend, from her early life to her railroad days, to her fighting alongside the Union Army during the Civil War.
Cook created her bookstore in honor of Tubman and sells female-authored books. However, she doesn't feel like she's honoring Tubman enough and has set out to get the legend a federally recognized holiday. So far, she has around 7,800 signatures on her petition and gives customers the necessary supplies to write their representatives about the issue.
There's at least one politician who's noticed Cook's effort, Representative Brendan Boyle (D-PA), who introduced a bill to Congress with the goal of creating a federal holiday to honor Tubman. As of now, the bill has five Democratic cosponsors in Congress: Representatives Joyce Beatty (D-OH), Andre Carson (D-IN), Theodore Deutch (D-FL), Yvette Clarke (D-NY), and Sheila Jackson (D-TX).
A Day Well Deserved
While many people know Tubman for her work helping slaves reach safety as part of the Underground Railroad, there are other accomplishments that make her more than worthy of celebration. Tubman herself was born into the life of a slave, not seeing freedom until she was 27, after her owner died. Despite being free, she didn't feel like she was, remembering her friends, family, and others who were suffering. So, she decided to help the Underground Railroad, just as it helped her.
Leading 13 expeditions to the North, Tubman was responsible for breaking 60-70 slaves out of Maryland, to freedom. In addition, author Kate Clifford Larson detailed how Tubman also helped 70 others with her directions to find their own way north.
Tubman eventually joined the Union Army, serving as a spy, nurse, and scout. At the Combahee Ferry Raid in 1863, Tubman became the first woman to direct a major military operation. She established a black nursing home in Auburn, New York, and was very active during the women's suffrage movement. All of this despite a disabling condition suffered after an overseer struck her in the head with an iron weight at 13. For the rest of her life, Tubman would suffer from headaches and seizures.
She accomplished so much despite the odds stacked against her. She has more than earned a federal holiday, and maybe one day, she'll get that recognition.
Copyright 2022, UnitedHeadlines.com