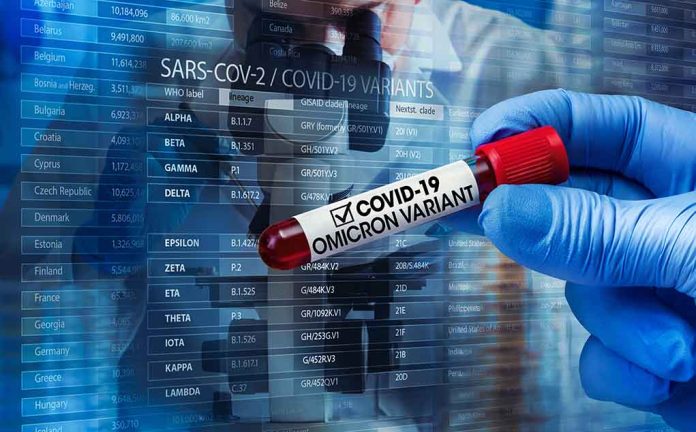 (UnitedHeadlines.com) – As time passes, more strains of COVID-19 emerge. The latest is the Omicron variant, which researchers discovered in South Africa. Despite its short time on the planet, the mutant strain has become the most dominant variant in the United States.
Data from the Centers for Disease Control and Prevention indicates that the number of Omicron cases has grown exponentially over the course of a month. Health officials claim that Omicron accounts for around 73% of the new COVID-19 cases in the United States, beating out the former leader of the pack, the Delta variant.
BREAKING: Omicron is now most common coronavirus variant in U.S., accounting for nearly three-quarters of COVID-19 cases, CDC says. https://t.co/HkpbuaGcNk

— The Associated Press (@AP) December 20, 2021
Across the Southeast, Pacific Northwest, and industrial Midwest of the nation, approximately 90% of all new COVID-19 infections are due to the Omicron strain. The new variant clearly spreads very quickly, even faster than the Delta strain, which has gripped America since early in the summer.
Scientists in South Africa discovered the new variant and warned the world on November 26. Since then, the strain has spread to over 90 different countries, leading many governments to fall back on the 2020 protocols used during the original outbreak. Dr. Amesh Adalja, John Hopkins Center for Health Security senior scholar, noted that the variant's infection rate didn't surprise him, citing data from Denmark, South Africa and the United Kingdom.
Researchers know very little about the new strain, which is worrisome considering it's spreading so fast. Scientists are rushing to determine how severe this newest strain is. Will they be able to match the breakneck pace at which it is sweeping the world, or will the variant mutate once again before they catch it?
Copyright 2021, UnitedHeadlines.com