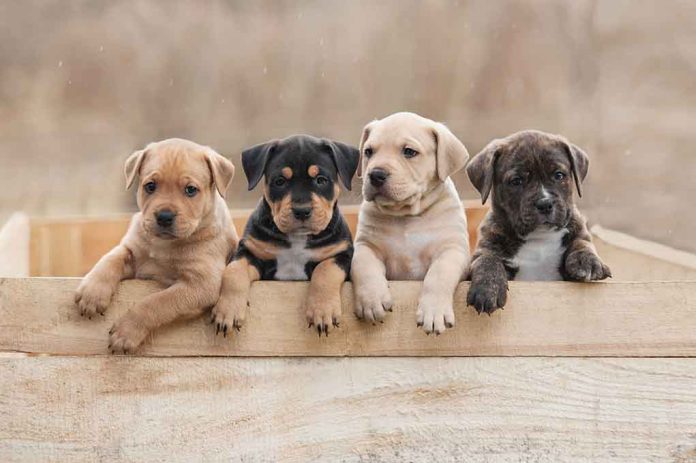 (UnitedHeadlines.com) – The holidays are a time to rejoice and enjoy some time off with family and friends. However, not everyone is fortunate enough to spend the holidays in a warm home surrounded by a loving family. For some puppies, Christmas looked grim until a miracle came along.
Some people can be so heartless they even abandon puppies, or even pets they've had for years, without remorse. It's an unfortunate truth, and it happens more than people think. On Christmas day, someone left a duffel bag in a Tulsa, OK QuikTrip convenience store. The zipped-up duffle was full of five puppies, prompting the store to call the police.
Bag of puppies abandoned at Tulsa QuikTrip Christmas night, end up with forever homes https://t.co/SWkweJt0dI

— WFXR News (@WFXRnews) December 27, 2021
Upon arriving at the scene, four of the policemen responding decided to adopt one puppy each, leaving only one of them without a home. But that didn't last long because one of the QuikTrip employees chose to adopt the last pup just in time for the holidays. Talk about a last-minute gift!
As depressing as it may seem, this wasn't the only occurrence of someone abandoning puppies. In another incident, security footage caught a couple dumping a dog and her 11 puppies at an animal shelter in Walton County, FL.
Another heartbreaking story happened in November when a woman traveling to Miami willingly left her dog behind at Tampa International Airport after failing to fill out the necessary paperwork to take it with her. Thankfully, the airport called a rescue organization, and the woman who responded to the call decided to take in the poor pup herself.
While many dogs find their "furever" homes, others suffer living in small cages in shelters, begging for someone to love them. Too many face euthanasia as shelters become overwhelmed. So perhaps consider the Tulsa officers' kind reminder to "adopt; don't shop," for your next dog or other household pet. They deserve a fighting chance too.
Copyright 2021, UnitedHeadlines.com