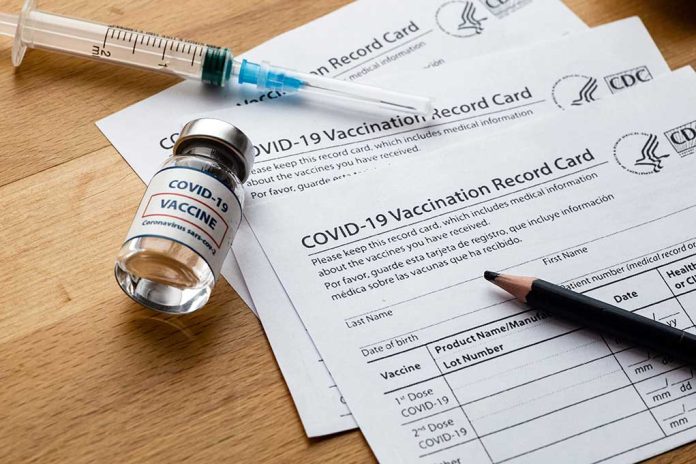 (UnitedHeadlines.com) – Coronavirus vaccine mandates have driven people to go to extremes to both avoid receiving the inoculation and preserve some sort of normalcy in their lives. Businesses have threatened employees with termination if they don't get vaccinated against COVID-19, pushing people to find ways around their mandates. The issue has also led to an illegal market for vaccine cards.
Suppliers
Authorities arrested two Detroit-area residents on charges of selling vaccination cards. Both instances involved fraud but in completely different ways. Bethann Kierczak, a 37-year-old nurse working at a Veteran Affairs (VA) hospital, used legitimate cards, but the records used to fill them out were fake. The nurse stole the vaccine cards and sold them for anywhere between $150 to $200 each. Prosecutors claim Kierczak communicated with her buyers via Facebook Messenger.
The other suspect, Raphael Smiley, is a 32-year-old who authorities believe has been importing fraudulent vaccine cards from Chinese companies and selling them on social media.
Criminal Actions
The Eastern District of Michigan's Acting US Attorney, Saima Mohsin, asserted that the importation and selling of fake vaccination cards is a crime. The Smiley scheme worked with two Chinese companies law enforcement has identified as suppliers of fake vaccine cards.
Kierczak's scheme was a little more devious, according to prosecutors who allege that the nurse stole and sold hospital records as well as the fraudulent cards. In addition, the nurse stole vaccine lot numbers to make the cards appear legitimate. Lamont Pugh III, the US Department of Health & Human Services (HHS) Special Agent in charge, noted that stealing federal property is a serious crime, especially when it involves patient health information.
Authorities arrested Kierczak on September 29, but they later released her on a $10,000 bond. The nurse is scheduled to appear at a preliminary hearing on October 22 where she faces charges for stealing government property and theft or embezzlement in relation to healthcare benefits. Charges against Smiley include identity fraud, trafficking fake goods, and fraud involving department or agency seals.
Smiley and Kierczak are among several people charged with selling vaccination cards; others include a bar owner, state troopers, and a pharmacist. US authorities have confiscated thousands of counterfeit COVID vaccine cards addressed for locations across America. Attorney Mohsin noted that regardless of a person's opinion on the vaccine, they shouldn't resort to extremes such as this one to avoid getting the jab.
Copyright 2021, UnitedHeadlines.com