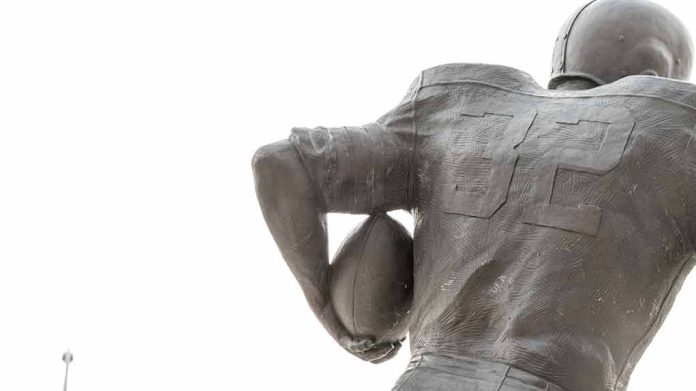 (UnitedHeadlines.com) – NFL running back Jim Brown, 87, passed away May 18 at his home in Los Angeles, California. The news of his passing was confirmed by his wife, Monique, who said he had passed away peacefully surrounded by his family.
It was reported Brown had not been doing well recently. He had been visited by friends including Flavor Flav, Eric Dickerson, and Marshall Faulk.
Brown was born on Feb. 17, 1936, in St. Simons Island, which is located off the coast of Georgia. His parents divorced, and at 7 he moved to Long Island where he attended Manhasset High School. During his high school career, he earned 13 letters and starred in five sports, receiving offers of athletic scholarships from 42 schools.
He went on to attend Syracuse University, where he excelled not only on the football team but also on the track, basketball, and lacrosse teams. He was named a unanimous All-America in his final college football game, and in the Heisman Trophy voting finished fifth.
In the 1957 NFL draft, Brown was drafted 6th overall by the Cleveland Browns. In his first year, he was named Rookie of the Year. Brown went on to play 9 seasons for Cleveland before retiring at 30 years old. Brown was named the league's leading rusher for 8 of the 9 seasons he played. During his career, he received nine Pro Bowl nods, eight first-team All-Pro selections, and was a three-time MVP. In 1964, he helped his team win the super bowl.
In 1971, he was inducted into the Pro Football Hall of Fame. In 1984, he was inducted into the National Lacrosse Hall of Fame.
After retiring from the NFL, Brown became an actor, opening the door for other Black actors. His acting career lasted five decades. He is known for his roles in the 1967 film "The Dirty Dozen," the 1968 films "Ice Station Zebra," "Dark of the Sun," "The Split," the 1969 film "100 Rifles" and the 1972 film "Slaughter," as well as many more.
Copyright 2023, UnitedHeadlines.com