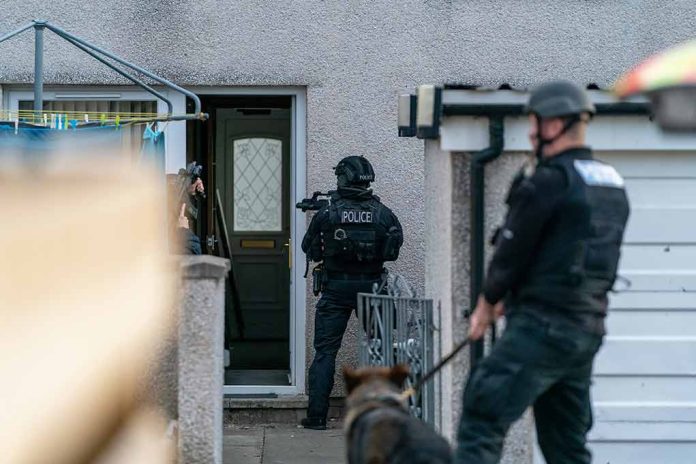 (UnitedHeadlines.com) – A fight over the First Amendment is brewing after police raided the newsroom of the family-owned Marion County Record on Aug. 11. The search warrant was executed on the newsroom, the home of the paper's co-owner Joan Meyer as well as the home of a City Council member.
A surveillance video of the raid shows a reporter being read their Miranda Rights by a police officer, while other officers seize computer equipment as well as cell phones. Another officer is seen photographing the scene.
The paper has a circulation of approximately 4,000.
A complaint from a local business owner Kari Newell, who is also a critic of the newspaper, prompted the raid by police. At an Aug. 7 public meeting, she accused two city council members of disseminating confidential criminal information about her driving record illegally.
The police then raided the newspaper as part of the investigation into how the information found its way to the newspaper and if the restaurant owner's privacy was violated by the process. According to Newell, the paper violated the driver's policy law to get information about the status of her driving record, which includes a drunken driving conviction from 2008.
The Record publisher Eric Meyer said the paper had been tipped off about her driving record but a story about it was never published.
According to Eric Meyer, his mother Joan Meyer died on Aug. 12. Her son stated she had not eaten or slept since the raid.
The attorney for the newspaper Bernie Rhodes sent Marion Police Chief Gideon Cody a letter that accused the chief and the officers of a "heavy-handed" move. In the letter, Rhodes said "the First, Fourth, Fifth, and Fourteenth Amendments" were violated by police. He added that "Sections 11, 15, and 18" in the Kansas Bill of Rights were also violated.
A letter from the Reporters Committee for Freedom of the Press, which was co-signed by 34 news and media organizations, was sent to Cody condemning what they say is an unconstitutional raid.
Copyright 2023, UnitedHeadlines.com