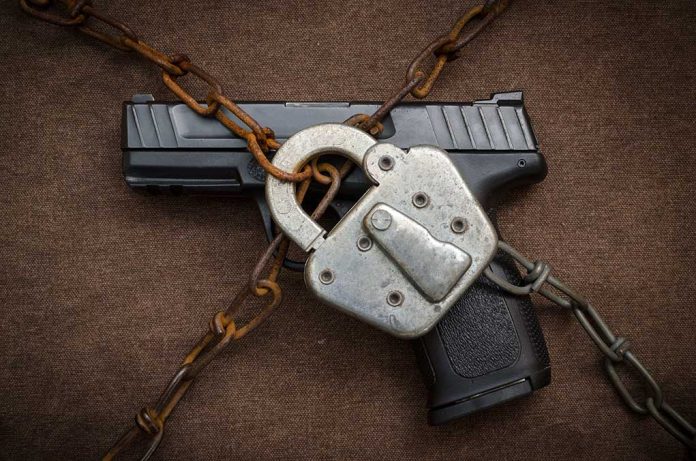 (UnitedHeadlines.com) – When Biden took office, many conservatives knew it was only a matter of time before there would be another push for gun control. It now appears they were right. Fueled by the recent school shooting in Michigan, Biden is making his move. While not directly targeting gun buyers, per se, the President's plan will strain gun suppliers and stores.
Under the new rule, arms suppliers will need to include some type of storage safety gear when selling guns. The Justice Department lists acceptable devices as gun safes, standard safes, lockboxes, gun cases, and other devices that require a key or combination to access the firearm. The requirement means stores and Federal Firearms License (FFL) holders need to provide the correct equipment when selling their guns.
Democrats once again, missing the point. The gun was bought for the boy. It wasn't stolen from the parents, cause they didn't store it properly.
Dem Sen. Murphy Calls for National Safe Storage Gun Law to Hold Parents 'Accountable' https://t.co/uRiMtq0Xb3 via @BreitbartNews

— Stick (@Terri53080530) December 5, 2021
This isn't a big issue for distributors that sell new guns, as many come with storage safety devices already. However, used firearms, which make up many arms sales, do not. For FFL dealers, the new rule will require them to purchase and provide these items with each firearm they sell.
Biden's rule isn't new, but it officially codifies the storage requirements the Gun Control Act of 1999 set for FFL applicants. The law does expand the criteria to include anywhere an FFL owner sells a firearm to non-licensed holders.
According to Statista.com, 83 mass shootings occurred between 1982 and 2021 with legally obtained firearms. Whether these were properly stored prior to their use is unknown.
Attorney General Merrick Garland claims the policy will help keep firearms from "falling into the wrong hands." Will it work? Or is the left punishing law-abiding FFL holders unfairly?
Copyright 2022, UnitedHeadlines.com